Foundation for Austrian Studies
XIV Annual Convention of the Austrian and Central European Centres in Leiden
Impressions by Wouter Baas and Caroline Schep
The academic programme (Wouter Baas)
As usual, the academic programme of the Convention of Austrian Centres spanned a wide variety of themes and geographical focusses. From the Russian Far East to New Orleans and with excursions to Stockholm and Israel, the papers presented by early-career researchers did not limit themselves to former-Habsburg Central Europe. Most of the presentations shared a decidedly transnational focus, an emphasis on intercultural transfers and stressed the role of language and other cultural expressions.
There was plenty to marvel at, such as videos of contemporary American series, sound clips of Holocaust audio guides, alongside depictions of Early-Modern executions. The majority of papers presented were historical in nature, but the interdisciplinary nature of the Austrian centres was demonstrated through projects that originated in cultural, literary or linguistic studies as well as in political science.
For many participants, the conference was a nice testing bed to engage in discussion on their ongoing projects, for others a wrap-up of years of hard academic labour. In all cases, the discussion was lively, informal and colourful and has definitely created connections between seemingly very different areas of expertise!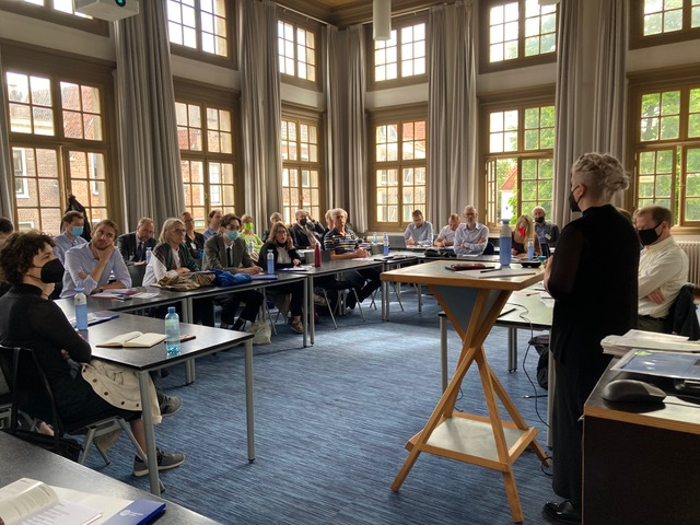 The touristic programme (Caroline Schep)
The touristic programme of the convention had much to offer to our visitors from abroad. Of course, the history of Leiden itself has some ties to the Habsburg empire: think of the Leids Ontzet and the old city wall tower called "Oistenrijck".
In the afternoons, we visited the perhaps most typical cities in Holland: Dordrecht and Delft. In Dordrecht, we were guided through the Dordrechts Museum and the city centre. At the Patriciërshuis, we had a short coffee break during which we could enjoy the amazing view over the river, and more, the interesting history of the buildings itself and the many remains that tell of it.
In Delft, we visited the Museum Prinsenhof, where we encountered yet another piece of Habsburg history in the story of Willem van Oranje. After a city walk through Delft, the bus took us to the residence of the Austrian ambassador, who had invited us for dinner .
The excursions have shown our guests a lot of Dutch culture, history and art in quite a short time, and were received very enthusiastically. It was a great opportunity for cultural exchange between all these scholars from different national backgrounds. Most of all, however, it was great to use this part of the programme to meet others who work on Austrian or Central European topics. It was a lot of fun to meet other students who were in the same phase of their career and excited to explore this field. Likewise, meeting so many experts and (former) directors was a good opportunity to learn about the field and make valuable contacts. It was more than obvious that everyone present had been longing for a convention like this after it had not been possible for a long time: there was never a lack of enthusiasm, dedication, or well-deserved "gezelligheid"!