Lecture | Symposium
QAnon and Alien Gods: Plausibility Construction in the Cultic Milieu (11th Leiden Symposium on New Religiosity)
Date

Monday 24 April 2023

Time

Location

Room

227
Programme
| | |
| --- | --- |
| 19.30 | Welcome |
| 19.35 | Marijn Bethlehem: QAnon and failed prophecy |
| 20.05 | Discussion |
| 20.30 | Break |
| 20.50 | Luuk Odekerken: Ancient deities, modern conspiracies: Strategies of persuasion in Zecharia Sitchin's Anunnaki theory |
| 21.20 | Discussion |
| 21.45 | The discussion continues in a nearby pub |

Organisation
The symposium is hosted by the Leiden Centre for the Study of Religion (LUCSoR). The symposium is public and free; registration is not required.
More information?
Contact Markus A. Davidsen for more information.
Speakers:
Marijn Bethlehem, MA

Luuk Odekerken, MA
Marijn Bethlehem, MA
QAnon and failed prophecy
Abstract. January 6th, 2021. The world is shocked to see a composition of Alt-right groups storm the US Capitol. One of the most memorable images of this event is the figure of the 'QAnon Shaman', a man dressed with bison horns and the American flag painted on his face. He was not the only QAnon supporter present at the storming of the Capitol. Lots of Anons were present at the event to show their support to President Trump, whom they believed to be some kind of saviour figure for the American nation. When Joe Biden won the election, the QAnon belief in Trump guiding America into a new era seemed debunked. This lecture raises the following questions: How did the QAnon movement handle this challenge to one of their core convictions? And was the response of QAnon similar to how religious movements in the past have responded to failed prophecies? Examining the similarities and differences between religious movements and conspiracy theories, will allow me to reflect on one of the fundamental questions of religious studies: what does it take to for a movement to count as a religion?
Bio. Marijn Bethlehem started her BA in Religious Studies at Leiden University in 2016. In 2021, she obtained her MA Asian Studies and MA Religious Studies. She currently works at the TU Delft as a LDE trainee.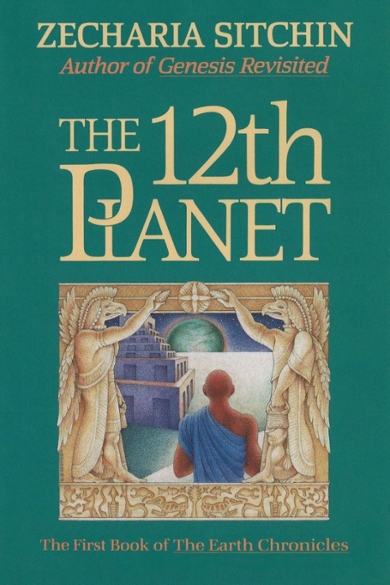 Luuk Odekerken, MA
Ancient deities, modern conspiracies: Strategies of persuasion in Zecharia Sitchin's Anunnaki theory
Abstract. In his 1976 book The 12th Planet, Zecharia Sitchin claimed that clay tablets found in modern day Iraq prove that mankind was created and controlled by the Anunnaki, a group of long-lived extraterrestrials. This 'Anunnaki theory' struck a chord and has, over the last half-century years, become a foundational part of both religious movements and conspiracist worldviews. This lecture poses the question 'why?' What is it about Sitchin's work that makes it so appealing to the religious and conspiracist fringe? The success of Sitchin's early publications seems to have rested primarily in his use of "rational" legitimation strategies. Sitchin makes his work look academic, and a general public may not be aware of how controversial and 'pseudo' Sitchin's scholarship really is. Interestingly, in his later works, Sitchin has also used narrative (rather than academic) texts to persuade his followers. Most importantly, Sitchin's The Lost Book of Enki is presented as a story told by Enki, the most benign of the Anunnaki. The interplay between (seemingly) scientific, evidence-based reasoning and imaginative story-telling produces an alluring worldview, which can be adapted to individual needs and persuasions. This has allowed Anunnaki theory to become widely distributed, making it one of the more influential corpora of conspiracy literature. In this presentation, I will describe the interplay between Sitchin's academic and narrative strategies of persuasion and discuss how Anunnaki ideas have spread in the online era.
Bio. Luuk Odekerken obtained his BA in Ancient Near Eastern Studies at Leiden University in 2019 and a MA in Religious Studies in 2022. He is particularly interested in the way aspects from the ancient world take on new meanings in the modern world.
Previous Leiden symposia on New Religiosity
2012: Hekserij in Holland
2013: Identity and Tradition in Contemporary Paganism
2014: New Forms of Sacrality in the Netherlands
2015: Playing with Religion
2016: Elves, Spirits, and Aliens: Superhuman Entities in New Religions
2017: What Cards and Coins Reveal: Divinatory Techniques in the Netherlands
2018: Stories of the Supernatural: Encounters with the Other Side in Literary and Everyday Narratives
2019: The Paranormal: Experiences and Experiments
2021: Mormonism 200 Years On: The Church of Jesus Christ of Latter-day Saints 200 years after Joseph Smith's first revelation
2022: The Tell-Tale Art Divination and Oracular Practice from All Angles