Book
Narrative and Belief
How do religious narratives persuade their readers to believe their message? And how can it be that some readers even come to treat fantasy and science fiction as authoritative religious texts? These are the core questions treated in Markus Davidsen's new book Narrative and Belief: The Religious Affordance of Supernatural Fiction.
Author

Markus Davidsen

Date

19 January 2018

Links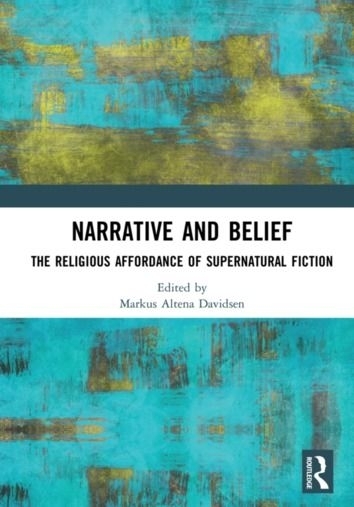 The Lord of the Rings, Star Wars, and certain other works of fantasy and science fiction have inspired some of their readers and viewers to believe that the superhuman powers of the story-worlds, such as Gandalf and the Force, exist also in the real world. In Davidsen's terms such fictional narratives possess 'religious affordance', for they contain certain textual features that afford or make possible a religious, rather than just a fictional, use of the text.
Narrative and Belief aims to identify those features of the text that make it possible for a fictional narrative to inspire belief in the supernatural beings of the story, or even to facilitate ritual interaction with these beings. The contributions analyse the religious affordance and actual use of a wide range of texts, spanning from Harry Potter and Star Wars, over The Lord of the Rings and late 19th-century Scandinavian fantasy, to the Christian Gospels.
Although the focus is on the religious affordance of fictional texts, contributors also spell out implications for the study of religious narratives in general, and for the narrativist study of religion. Several of the chapters in the book are based on papers read at the symposium "Narrative and Belief: International Symposium on the Persuasive Power of Religious Narratives and Supernatural Fiction", held at the University of Leiden on October 17, 2014. The book was originally published in 2016 as a special issue of the journal Religion. For more information, see here.
Table of Contents
Introduction – Narrative and Belief: The Religious Affordance of Supernatural Fiction | Markus Altena Davidsen
The difference between religious narratives and fictional literature: a matter of degree only | Anders Klostergaard Petersen
The religious affordance of fiction: towards a catalogue of veracity mechanisms in supernatural narratives | Markus Altena Davidsen
Contemporary fantasy fiction and representations of religion: playing with reality, myth and magic in His Dark Materials and Harry Potter | Laura Feldt
Fiction into religion: imagination, other worlds, and play in the formation of community | Carole M. Cusack
On elves and freethinkers: criticism of religion and the emergence of the literary fantastic in Nordic literature | Dirk Johannsen