Eduard Meijers
Jewish Professor Eduard Meijers (1880-1954), along with 29 other Jewish members of staff, was dismissed by the Nazis in November 1940.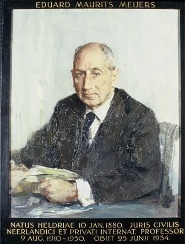 His colleague and Dean of the Law Faculty Rudolph Cleveringa expressed his abhorrence of this act in the form of a protest speech. Shortly afterwards Cleveringa was arrested and imprisoned in Scheveningen, where he remained until 1941.
Meijers, his wife and their youngest daughter were taken to the Westerbork transit camp and then to the Theresienstadt concentration camp. A group of Meijers' close friends, including a former student, managed to prevent his deportation to a death camp. Meijers survived the war and returned to the university, where he was one of the authors of the new Civil Code.
In her inaugural lecture on 27 November 2017, Cleveringa Professor Marjan Schwegman shed light on the history of Meijers' persecution: ''War history of Eduard Meijers warrants place in memorial culture'.