History Painting
Rembrandt experts have been puzzling over this painting from 1626 for years. The work may have been commissioned by someone from University circles and may depict a judgment. It can be seen at Gravensteen, a building that served as a prison between 1463 and 1955. This historical building later became the home of the Leiden Law School, and currently houses the Student and Educational Affairs expertise centre.
Lakenhal
The History Painting, which will again be on show at Museum De Lakenhal from 20 June 2019, is perhaps Rembrandt's most mysterious painting. Who and what does the painting depict? The 20-year-old Rembrandt painted Roman buildings and people dressed in 16th- and 17th-century attire. He included himself in the painting, making this one of his earliest self-portraits. He's the young man at the back with the curls, to the left of the man with the long grey beard.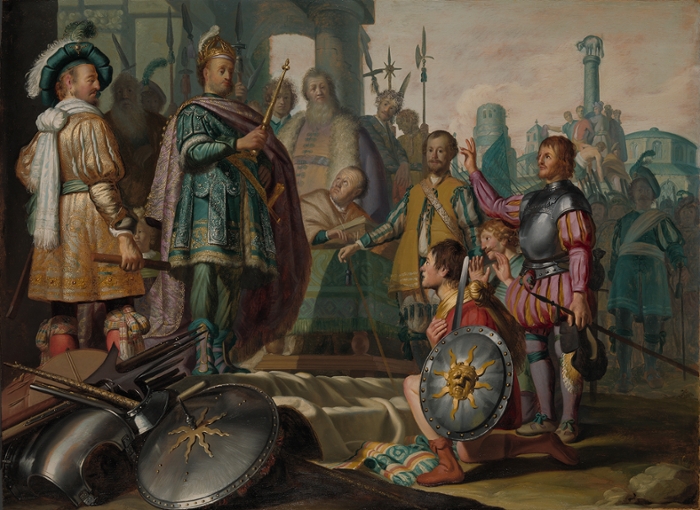 History painter
A monarch stands on a podium, sceptre in hand. Two men kneel before him, while a third appears to be taking an oath. This composition, which dates from after Rembrandt's apprenticeship with Amsterdam history painter Pieter Lastman, tells us that he too wants to be a history painter. A subject such as this would have been intended for an educated audience. The interpretations of this painting vary from Biblical scenes such as Saul and David to important historical scenes such as the judgment of Roman consul Brutus.
Rich Leiden businessman
Some art historians believe that this painting alludes to the execution of grand pensionary Johan van Oldenbarnevelt after his conflict with Prince Maurits, who incidentally had taken history lessons with Leiden humanist Justus Lipsuis. Others suggest that rich Leiden businessman Matthias van Overbeke may have commissioned the painting and that he figures as the man with the yellow jerkin and gold-coloured sash. In that case, the monarch with the sceptre would be Emperor Ferdinand II. Van Overbeke, who was originally from Germany, is thought to have conducted business at Ferdinand's court in Vienna. He enrolled to study philosophy in Leiden University in 1617, but it is unclear whether this businessman actually studied here. We do know that Van Overbeke liked to be seen with esteemed scholars and invited them to his home on Rapenburg.
Two works by Rembrandt
It has also been suggested that Leiden humanist Petrus Scriverius (1576-1660) commissioned the painting. Documents from the library archives note that he possessed two works by Rembrandt, one of which could have been this painting. Scriverius studied law in Leiden for a short period of time before becoming a pupil of the humanist Joseph Justus Scaliger, a professor at the University.
Exhibitions
These are just some of the interpretations of the History Painting, which was restored in 2018. We are showing it to commemorate the reopening of Museum De Lakenhal, which after years of renovation work will reopen in June 2019: Rembrandt and the Golden Age (20 June - 3 October) and the special exhibition Young Rembrandt 1624-1634 (2 November 2019 - 9 February 2020).