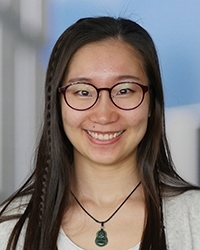 Xuesong Wang
PhD candidate / guest
Name

X. Wang

Telephone

E-mail
From September 2010 to June 2014, I studied in medicinal chemistry at China Pharmaceutical University to obtain my Bachelor degree. During the last year of my bachelor study, I did my final internship on the synthesis of novel GPR40 agonists. In September 2014, I came to Leiden University and followed the master program of Biopharmaceutical Science. I did my 9-month internship at the LACDR division of Pharmacology, focusing on the influence of P-glycoprotein and multidrug resistance protein mediated blood-brain-barrier transport on the brain distribution of the antineoplastic etoposide. For my 6-month internship at the division of Medicinal Chemistry, I worked on the characterization of potentially irreversibly binding allosteric modulators for mGlu2 receptors.
After obtaining my Master degree in August 2016, I was sponsored by China Scholarship Council to perform my PhD study at the division of Medicinal Chemistry under the supervision of Prof. Dr. A. P. IJzerman, Dr. G. J. P. van Westen and Dr. L. H. Heitman. My research project focuses on somatic mutations in G Protein-coupled Receptors. By using both a yeast system and mammalian cell system, the role of receptor mutants on receptor activation and cell growth will be identified.
PhD candidate / guest
Wiskunde en Natuurwetenschappen
Leiden Academic Centre for Drug Research
LACDR/Medicinal Chemistry
Work address
Gorlaeus Building
Einsteinweg 55
2333 CC Leiden
Room number GE4.07
Contact
Doornbos M.L.J., Wang X., Vermond S.C., Peeters L., Pérez-Benito L., Trabanco A.A., Lavreysen H., Cid J.M., Heitman L.H., Tresadern G. & IJzerman A.P. (2019), Covalent Allosteric Probe for the Metabotropic Glutamate Receptor 2: Design, Synthesis, and Pharmacological Characterization, Journal of Medicinal Chemistry 62(1): 223-233.