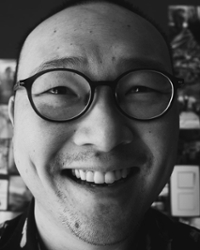 Weiyan Low
PhD candidate
Name

W. Low

Telephone

E-mail
Hailing from Kuala Lumpur, Malaysia, Weiyan Low is a PhD Candidate with a background in filmmaking, education and activism in Southeast Asia.
In 2020, he completed a Masters in Social and Cultural Anthropology from the Catholic University of Leiden (KUL). His thesis, pedals Pedalphiles is a Noise ethnography and ethnographic film, following underground musicians, tinkerers and makers of effect pedals in Flanders, Belgium, emphasizing the role and agency of materials in music making.
Currently, Weiyan is one of three PhD candidates under the |0100| Project on Artificial Intelligence and futures in Southeast Asian Islam; his research will focus on the rise of shariah-compliant online entertainment and its impact on Malaysia's future as a multi-ethnic country and evolution of localized Islam.
PhD candidate
Faculteit der Sociale Wetenschappen
Culturele Antropologie/ Ontw. Sociologie
No relevant ancillary activities