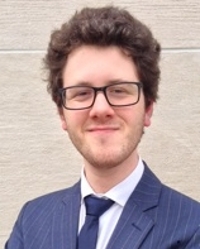 Valentin Vandendaele
External PhD candidate
Name

V.E.P. Vandendaele

Telephone

E-mail
Valentin Vandendaele graduated from the Faculty of Law at the KU Leuven (2016). He also studied at the Faculty of Law of the Université catholique de Louvain within the framework of the Erasmus Belgica Program. He obtained an LL.M. at Harvard Law School as well (2017). During his studies, he received the Harvard Law School Boas Scholarship.
He then worked as a teaching/research staff member at the Europa Institute of Leiden University (2017-2018).
With a grant from the Fonds de la recherche scientifique (F.R.S. – FNRS), Valentin Vandendaele is currently writing a PhD dissertation on price regulation in EU digital commerce at the University of Liège and Leiden University.
External PhD candidate
Faculteit Rechtsgeleerdheid
Instituut voor Publiekrecht
Europees Recht
Vandendaele V.E.P. (29 July 2019), Commission v Germany (C-377/17): Do Exceptions in Tariff Regulation Matter?. European Law Blog [blog entry].
Vandendaele V.E.P. & Kruisbergen K.A.M. van (2019), Europees recht, Ars Aequi KwartaalSignaal 150: 8819-8823.
Vandendaele V.E.P. (2019), For a Few Cigarettes More: The AG Opinion in the JTI Case, European Papers 4(3): 871-880.
Vandendaele V.E.P. (3 July 2018), How the Efficiency Gap Might Ruin the Fun of Stealing American Elections. Leiden Law Blog [blog entry].
Vandendaele V.E.P. & Magdelijns R. (2018), The EU Commission finds that the Luxembourg authorities' non-taxation of a fast-food franchising relies on a correct interpretation of the Luxembourg-US Double Tax Treaty and therefore does not constitute illegal State aid (McDonald's), e-Competitions Bulletin 2018: 88799.
Vandendaele V.E.P., annotation: HvJ EU 10 May 2017, no. C-133/15, KwartaalSignaal 2017; 8504-8506 (Chavez-Vilchez e.a.).
Aalbers M. & Vandendaele V.E.P. (2017), KwartaalSignaal Europees recht Member of editorial staff Ars Aequi KwartaalSignaal 145: 8507 - 8508.
No relevant ancillary activities