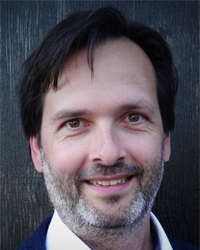 Thorbald van Hall
Professor Tumour immunology
Name

Prof.dr. T. van Hall

Telephone

E-mail
Thorbald van Hall is professor experimental tumorimmunology at the Department of Medical Oncology in the LUMC. His expertise concerns escape mechanisms of tumors. As a young researcher he won the CJ Kok award and received several education awards as a teacher.
More information about Thorbald van Hall
Immunotherapy of cancer
Immunotherapy profoundly changed cancer treatment during the last years. Several cancer types are currently treated with immunotherapy as first line option and we expect a dominant position among other treatment modalities in the near future. In contrast to conventional treatments, the main goal of immunotherapy is to ignite an immune response against cancer, instead of directly kill cancerous cells. So, the mode of action is fundamentally different. Most tumors arise in people with an intact immune system and activation of immunity is apparently essential for proper control of tumor growth. Tumors are adaptive and adopt escape mechanisms, also against immunotherapy. Even though some of these forms of escape (like shut down of HLA antigen presentation) were described decades ago, we currently observe them more often due to high selection pressure by immunotherapy and the fact that more patients are treated with this therapy. Unraveling the underlying mechanisms of escape in fundamental and pre-clinical research constitutes the basis of new exploitable therapeutic targets. The ambition is to render escaped cancers vulnerable for the immune system and thereby be able to effectively treat more cancer patients.
Alternative targets for escaped cancers
Most forms of immunotherapy are based on specific white blood cells of the immune system, the T cells. These immune cells recognize cancer cells by virtue of small proteins and then can eliminate them. Cancer cells can remove these small proteins in order to prevent T cell recognition. My research demonstrated that this removal does have consequences and that alternative T cells come into play to target these seemingly invisible cancer cells. We call the alternative targets 'TEIPP'. After many years of fundamental research, we now will test this knowledge in clinical trials aiming to raise T cell immunity against escaped cancers.
A second research line resolves around inhibition of the T cell response. The immune suppressive molecule HLA-E is expressed by cancers to inhibit T cells. The surface receptor NKG2A/CD94 interacts with HLA-E and my research group was involved in the identification of this axis as a novel checkpoint in cancer immunity. During the coming years, blockade therapy of NKG2A will be tested in clinical trials, while we also focus on answering basic questions on these molecules.
Finally, I have a major interest in oncolytic viruses. These viruses selectively infect cancer cells and thereby alarm the immune system. Escaped cancers have limited immune targets for T cells, but oncolytic viruses renders them immunogenic. Rational combinations with other forms of immunotherapy will help cancer patients in the future.
Academic career
Thorbald van Hall studied BioMedical Sciences at the Leiden University. He started his PhD work in 1994 in the research group of Prof Dr CJM Melief in the LUMC. His research was geared towards the interaction of the immune system with cancer. He defended his thesis with the title 'Identity and processing of CTL epitopes in murine tumors' in 2000 at the University of Leiden. After his PhD he continued his career, somewhat unorthodox, in the same research group because he received a grant on one of his PhD research lines. This work was ultimately published in Nature Medicine. In 2005 he started working in the prestigious Karolinska Institute in Stockholm in the group of Prof Dr HG Ljunggren, an expert in the field of cancer and natural killer cells. In 2007, he became PI and obtained a staff position at the department of Clinical Oncology of the LUMC and in 2011 he became Associate Professor. Since June 2020 he is Professor of experimental tumorimmunology. Thorbald van Hall is member of the Dutch society of Immunology (NVVI) and the European and American societies of tumor immunologists (EATI and CIMT).
Professor Tumour immunology
Faculteit Geneeskunde
Divisie 2
Medische Oncologie
Lid van sientific advisory board