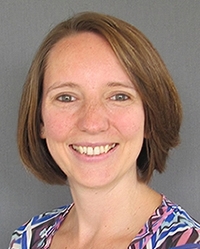 Tessa Mearns
Assistant professor
Name

Dr. T.L. Mearns

Telephone

E-mail

ORCID iD
Before I came to work at ICLON I was a teacher in secondary education, first in England and from 2010 at a large, multicultural bilingual (tto) school in Eindhoven. In 2015 I completed my PhD research on the motivation of havo students in tto and 'regular' education. I started at ICLON in 2017 as an assistant professor (UD).
I am coordinator of the World Teachers Programme (WTP) – a bilingual variant of ICLON's teacher education for students who want to focus on teaching in multilingual and multicultural contexts, such as bilingual education (tto) or international schools. In the WTP, I am a supervisor and I teach specialized seminars on Content and Language Integrated Learning (CLIL), intercultural communication, global citizenship and culturally-responsive teaching. I also supervise students' research. I have been actively involved in teacher professional development, alongside initial teacher education and research, since 2022.
My own research is about CLIL and bilingual education, about equity, diversity and inclusion (EDI), and if possible, about both together. For example, I am currently working on a study on assessment in CLIL, a study on EDI in teacher education and a study on how teacher education, students and schools make use of a tool aimed at developing competences in CLIL, cultural responsiveness and inclusion, critical thinking and intercultural competence. In addition, I am involved in international projects and consortia on CLIL and subject-specific language, and on inclusive higher education. I also supervise six PhD students on various topics related to CLIL, EDI and language teaching.
For me, the learner is always at the centre. Particularly with regard to professional development, education must fit with the needs and learning goals of those you have in front of you, and with their context at school. At the same time, I'm not afraid to challenge you to consider things from a different perspective. I am also a strong believer in 'co-learning': I learn at least as much from course participants and students (and their students) as they learn from me.
I really want students to achieve their own learning goals – even if sometimes in a slightly adjusted form – and that they gain insight into their own growth and where they want to go next. From a somewhat selfish perspective, I am also very happy if I can take away some lessons for myself and my own future practice.
Work address
Willem Einthoven
Kolffpad 1
2333 BN Leiden
Room number B4.26
Contact
No relevant ancillary activities