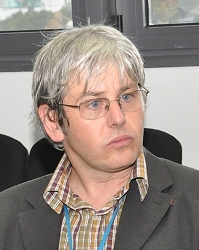 Stefano Bellucci
University Lecturer
Name

Dr. S. Bellucci

Telephone

E-mail

ORCID iD
Stefano Bellucci is a university lecturer at the Institute for History
Research
I am a Senior Researcher for Africa at the International Institute of Social History of Amsterdam (which is part of the Dutch Royal Academy of Arts and Sciences). At the IISH I am involved in projects related to the general research theme of the IISH, which is centred on Global Labour History. In this respect, I collaborate on research on global labour relations in the period 1500-2000, the Global Labour History of Africa, and other e-humanities projects such as the Historical Dataset on Labour Unrest in Africa 1800-2000.
Other projects which I lead within the IISH Global Labour History Programme are related to a number of digitisation programmes of labour history archival material in Africa in various countries such as Ethiopia, Eritrea, Sudan, Kenya, Senegal, Ghana, etc. My research as an economic and labour historian is centred on colonial Eritrea where I study processes of commodification of labour. Because labour history is at the centre of my research, I am working with a number of international scholars on the historical process of capitalist transformations of African societies.
I am directly involved with the European Social Sciences and History Conference where I am responsible for the Africa Network. Together with Holger Weiss (Åbo Akademi University, Finland), I will organize the conference 1919-2019, the Long Century of Labour and the Internationalisation of the Labour, on Saturday April 7th, 2018.
In addition, I sit on the board of the academic journal "International Review of Social History".
Teaching activities
Before joining Leiden University and the IISH in The Netherlands, I taught African Geography, Development Studies, and African Politics and Economics at the University of Pavia in Italy for five years. Prior to that, I worked for the Organisation for Economic Cooperation and Development as a consultant at the Development Cooperation Directorate where I conducted studies on Africa. I have also worked for UNESCO in both Paris and Maputo, Mozambique, offices. I undertook research work on behalf of the organisation on social movements and trade unions.
Curriculum vitae
I earned my BA in Political Science in Italy from the University of Urbino, Faculty of Law, where I did my final dissertation on the subject of African History, Politics and Law. After my BA, I did a Master's degree in International Studies at Miami University in the United States. The topic of my MA thesis was labour migration from Africa to Europe. After the US, I moved to France. At the Université Paris Sud XI, Faculty Jean Monnet for Economics and Law, I conducted my PhD research on the processes of "neoliberalisation" in post-Marxist Mozambique. My research sought to look at the differences within Mozambican civil society and the crucial differences between NGOs and trade unions. This research put into question the differences that exist in the understanding and role of African civil society today in the economic thinking of neoliberal and well as critical and/or radical thinkers.
University Lecturer
Faculty of Humanities
Institute for History
Afrika studies
Work address
Johan Huizinga
Doelensteeg 16
2311 VL Leiden
Room number 1.39
Contact
Senior researcher/head collector for Afrika