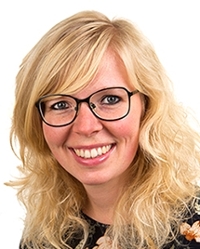 Simone Rijksen
Buitenpromovendus
Name

S. Rijksen MSc

Telephone

E-mail
Simone Rijksen is participating as a dual PhD Candidate in the Leiden University Dual PhD Centre The Hague programme. Working title dissertation: 'Kenmerken en condities van reflectieve dialoog in de context van samenwerkende en samen lerende docenten in het Nederlandse basisonderwijs'. (Characteristics and conditions of reflective dialogue in the context of teachers collaborating and learning together within the Dutch primary school system)
More information about Simone Rijksen
Simone Rijksen studied 'Academische Pabo' (academic teacher training in primary education), a collaboration between Leiden University's Institute of Education and Child Studies and the Faculty of Education at the University of Applied Sciences Leiden. She completed her Master Educational Science at Leiden University in 2015. For her master thesis she focussed on activities aimed at the professionalization of teachers in primary education. For the past few years Simone has been working as a teacher and educational developer at a school for intellectually gifted children. As a teacher in primary educations she has participated in various activities aimed at the professionalization of teachers on a wide range of topics.
With the NWO Doctoral Grant for Teachers Simone combines her job as teacher with PhD research. As of 1 September 2019 she is working as a dual PhD candidate Leiden University's ICLON.
Teacher are participating in so-called professional learning communities (PLCs) as part of an ongoing process to stimulate further professionalization. The desire to know more about teachers collaborating and working together in PLCs is not only based on the personal interests to Simone but also based on the need for information from within the organisation and from professionals working in the field of primary education. The working title for her PhD dissertation: 'Kenmerken en condities van reflectieve dialoog in de context van samenwerkende en samen lerende docenten in het Nederlandse basisonderwijs' (Characteristics and conditions of reflective dialogue in the context of teachers collaborating and learning within the Dutch primary school system). Conducting reflective dialogues is an effective learning method for teachers working in the Dutch primary school system. This research project looks at developments in reflective dialogues and the characteristics and conditions among which they take place with the aim to develop and test an intervention to promote reflective dialogues.