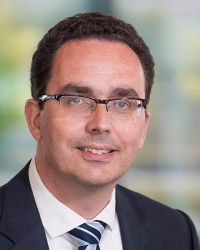 Silvere van der Maarel
Professor Medical Epigenetics
Name

Prof.dr.ir. S.M. van der Maarel

Telephone

E-mail
Silvère M. van der Maarel is professor of Medical Epigenetics and Chair of the department of human genetics. He is coordinator of the LUMC medical research profile Translational Neuroscience and coordinator of the Leiden University research focus area Bioscience: the science base of health. He is also co-founder of the Richard Fields Center for FSHD Research of the Spieren voor Spieren FSHD Center of Expertise
More information about Silvere van der Maarel
Silvère M. van der Maarel is professor of Medical Epigenetics and Chair of the department of human genetics. He is coordinator of the LUMC medical research profile Translational Neuroscience and coordinator of the Leiden University research focus area Bioscience: the science base of health. He is also co-founder of the Richard Fields Center for FSHD Research of the Spieren voor Spieren FSHD Center of Expertise
Medical epigenetics
Early in his career Van der Maarel became intrigued by the observations that genomic rearrangements at large distance of disease genes can result in disease. This suggests that the human genome has a complex organizational structure warranting questions like: how does genome organization influences gene expression and what is the role of repetitive DNA? By studying rare diseases, amongst which facioscapulohumeral dystrophy, being caused by one of the most intriguing and complex genetic causes, Van der Maarel aims to study the epigenetic regulation of the human genome.
Epigenetic processes are dynamic processes and therefore promising targets for molecular therapies for rare diseases caused by gene defects resulting in epigenetic derailment of the genome. His research therefore often focuses on the translation of basic findings in this group of diseases towards clinical relevant outcomes such as improved diagnostics and therapy development.
Academic career
After completing his study Molecular Sciences at the Wageningen University (Netherlands), Silvère M. van der Maarel performed his PhD study at the Human Genetics department of the RadboudUMC Nijmegen (Netherlands). He defended his thesis entitled 'Cloning of a gene for X-linked deafness and a candidate gene for X-linked mental retardation' in 1997. After a short period at the Max Planck Center for Molecular Biology (Berlin, Germany) Van der Maarel continued his career in the Human Genetics department at the Leiden University Medical Center. In July 2006 he was appointed Professor in Medical Epigenetics of the Leiden University Medical Center. The title of his inaugural lecture was 'What moves us?'. In September 2012 he was appointed Head of the Human Genetics department of the Leiden University Medical Center.
Van der Maarel studies the role of epigenetic changes in rare diseases. He co-authors more than 200 articles, amongst which well-received opinion forming reviews and book chapters. He is co-founder of the Richard Fields Center for FSHD, a transatlantic collaboration to accelerate studies of FSHD and to develop therapies. He is also co-founder of the Netherlands FSHD Center of Expertise, a collaboration between the Leiden University Medical Center and the Radboud UMC Nijmegen to harmonize FSHD care and research.
Prizes and honourable appointments
Van der Maarel received a Gisela Thier fellowship from the LUMC in 2000. For his FSHD studies he received a FSH Society Fellowship in 1998, the Young Myologist of the Year Award of the World Muscle Society (2005), the Prinses Beatrix Fonds Research Award (2014) and the FSH Society Pioneer Award in 2016.
Follow S.M. van der Maarel
Professor Medical Epigenetics
Faculteit Geneeskunde
Divisie 4
Humane Genetica
Ad hoc advisor
Advisory committee
Board member
Board member
Editorial Board Member Neuromuscular Diseases
Scientific Advisory Board
FSHD Clinical Advisory Board & Consultancy