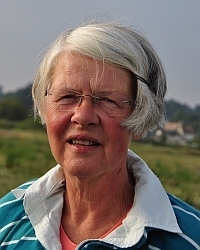 Rinny Kooi
Lecturer
Name

Dr. R.E. Kooi

Telephone

E-mail
 For more information, see the Dutch version.
Lecturer
Science
Instituut Biologie Leiden
IBL onderwijs
Kooi R.E. (2010), Darwin in Leiden. Leiden: Ginkgo Uitgeverij.
Kooi R.E. (2010), De ontvangst in Leiden van Darwins On the Origin of Species Onbekend. Leiden: Leidsch Jaarboekje. 108-125.
Kooi R.E., Vries M. & Brakefield P.M. (1998), The effect of drought stress in food plants on the wing pattern induction of the polphenic tropical butterfly Bicyclus anynana (Lepidoptera: Satyridae), Proceedings of Experimental & Applied Entomology, N.E.V. 9: 217-222.
No relevant ancillary activities