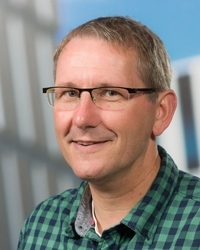 Rian van den Nieuwendijk
Analyst
Name

A.M.C.H. van den Nieuwendijk

Telephone

E-mail
Rian van den Nieuwendijk (born March 14th, 1963) studied chemistry at the HS Leiden. During an internship (1984 -1985) at the Natural Products group of the Free University in Amsterdam he worked on the synthesis of C19-diterpene alkaloids under the guidance of dr. J.L. van der Baan. After graduation, his first job was found in the Organic Synthesis Research group of Naarden International (nowadays Quest International) working in the pre-development section. (1985 – 1989). In 1989 he made a move to the Biomaterials Research Group of prof. dr. K. de Groot at the Leiden University Medical Center. From 1991 – 2000 he worked in the Bio-organic Reactivity department of dr. J. Brussee and prof. dr. A. van der Gen. In this period research was focussed on the development of new Horner-Wittig reagents and the synthesis and applications of chiral cyanohydrins, with high enantiomeric purity. After a year of outplacement to the Pharmacochemistry group of prof. dr. A.P. IJzerman he joined the Bio-organic Synthesis group of prof. dr. H.S. Overkleeft in July 2001.
Present research is focused on the development of new routes towards deoxy aza-sugars and new PKB inhibitors via the use of nitriles in a Dibal-H reduction – transimination – NaBH4 reduction reaction sequence.
Research interests: Enzymatic- and enantio-selective synthesis of natural products, (unnatural)amino acids, Horner-Wittig reactions, chiral cyanohydrins, ring closing metathesis, proteomics, enzyme inhibitors, protein targeting devices and molecular probes.
Analyst
Science
Leiden Institute of Chemistry
LIC/Chemical Biology
Work address
Gorlaeus Building
Einsteinweg 55
2333 CC Leiden
Room number DE311
Contact
No relevant ancillary activities