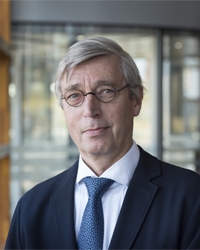 Piet Postmus
Professor Pulmonology
Name

Prof.dr. P.E. Postmus

E-mail
Piet Postmus is head of department and chair of Pulmonary Diseases at LUMC. Awards: 2015 Heine H. Hansen award of ESMO en IASLC 2013 Joseph Cullen prevention /early detection award (IASLC)
More information about Piet Postmus
Pulmonary Diseases
The chair Pulmonary Diseases is connected to head of department with as specific mission to modify the focus of the department towards the main themes of LUMC as described in "Grensverleggend beter worden. Strategie LUMC 2018-2013".
Within the department the following themes have been selected:
Oncology (lung cancer is one of the most important causes of death due to cancer)
Regenerative medicine (both loss of tissue by severe emphysema, as well as disturbed inflammatory responses resulting in fibrosis)
Applying e-health for care of these patients.
Academic career
During my training ('77-'82) for chest physician I started clnical-scientific researds aiming at new therapeutic approches for lung cancer and defended my Dr. thesis ("New approaches in small cell lung cancer") on November 13, 1985.
Within the University hospital in Groningen I started the programs for lung cancer and lung transplantation. I moved to Amsterdam to become chair and head of department (1-3-1992). My inaugural lecture was given in 1995 "…dat lossen we samen wel op".
During these years I participated in clinical research with the themes lung cancer, endoscopy, pneumothorax, pulmonary circulation. A large part of this research has been incorporated in several doctorate theses.
After my emeritus I was invited by the University of Liverpool to try to improve care and research for lung cancer in Liverpool (UK). With mixed success I worked there for 2.5 yrs.
Since 1-10-2017 I'm working in LUMC with the above described tasks. In my inauagaral lecture "Grensverleggend maatwerk" I described in more detail the above mentioned plans.
Professor Pulmonology
Faculteit Geneeskunde
Divisie 2
Longziekten
Contact
No relevant ancillary activities