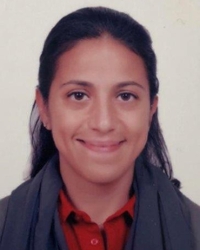 Mona Shahab
PhD candidate
Name

M.K. Shahab

Telephone

E-mail
Summary
Mona is a PhD candidate at the Clinical Psychology Unit and the Clinical Epidemiology Department at Leiden University. She is also a co-investigator on the Saudi National Mental Health Survey. Mona has a Master's degree in Child Development with a concentration in Clinical Developmental Psychology from Tufts University (2006). She received her B.A. in Psychology from Boston University (2003). After her master's degree, Mona worked for 2.5 years in the Developmental Medicine Center at Children's Hospital Boston. She was a senior research assistant on two national projects in the US. She also conducted psychometric testing and cognitive testing in clinic under the supervision of Drs. Ellen Hanson and Rachel Hundley. Mona has done extensive work and research in Mental Health, Autism, Eating Disorders, and Domestic Violence. Mona currently works part time at i-psy and Centrum '45 as a Psychologist focusing on trauma, psychopathology, and personality.
Unrelated to work, Mona is an avid reader, runner and a tennis addict. She has taken it upon herself to combine passion with a good cause and so far, has stood on the roof of four continents (Kilimanjaro4Cancer, Elbrus4Cancer, Aconcagua4Cancer, Vinson4Mohammad) and climbed other mountains (Everest Base Camp: A Woman's Destination, MontBlanc4Humanity, Toubkal4Smiles, LeninPeak4Tomorrow) mainly in the name of cancer and providing an education for refugee children.
Research
Mona 's project focuses on the effect childhood maltreatment has on insecure attachment styles and the quality of intimate relationships in adulthood, and how psychopathology and personality characteristics sequentially mediate this relationship in the NESDA study. Mona is also involved in an RCT that looks at EMDR vs. KIDNet, vs. Waitlist in a refugee sample in the Netherlands. The RCT is in collaboration with Centrum '45, GGZ Dronten and Utrecht, and Leiden University.
Publications
Shahab, M., Al-Tuwaijri, F., Bilal, L., Hyder, S., Alhabeeb, A., Al-Subaie, A., Mneimneh, Z., Pennel, B., Sampson, N., Kessler, R., Al-Tuwaijri, Y. (2017). The Saudi National Mental Health Survey: Methodological and Logistical Challenges from the Pilot Study. International Journal of Psychiatric Research.
Hyder, S., Bilal, L., Akkad, L., Lin, Y., Al-Habeeb, A., Al-Subaie, A., Shahab, M., Binmuammar, A., Al-Tuwaijri, F., Kattan, N., Altwaijri, Y. (2017). Evidence-based guideline implementation of quality assurance and quality control procedures in the Saudi National Mental health Survey. International Journal of Mental Health Systems.
Mneimneh, Z., Hibben, K.C., Bilal, L., Hyder, S., Shahab, M., Binmuammar, A., & Altwaijri, Y. (2018). Probing for sensitivity in translated survey questions: Differences in respondent feedback across cognitive probe types. The International Journal for Translation & Interpreting Research, 10 (2), 73-88
PhD candidate
Faculteit der Sociale Wetenschappen
Instituut Psychologie
Klinische Psychologie