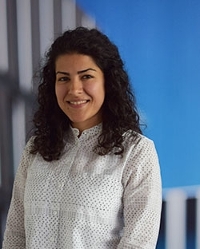 Mitra Baratchi
Assistant professor
Name

Dr. M. Baratchi

Telephone

E-mail
Mitra Baratchi's research is focused on spatio-temporal data mining and mobility modelling. More specifically, she is interested in designing algorithms that extract patterns from the trajectories of moving objects such as cars, people, and animals. Such research is targeting applications in crowd monitoring, smart mobility, and urban planning.
Before joining LIACS, Mitra worked as a post doc researcher in Design and Analysis of Communication Systems research group at University of Twente. Prior to that she was a researcher in Ambient Intelligence research group at Saxion University of Applied Sciences. In June 2015 she received her PhD degree from University of Twente.
See for more information my personal website.
Assistant professor
Wiskunde en Natuurwetenschappen
Leiden Inst. Advanced Computer Sciences
Work address
Snellius
Niels Bohrweg 1
2333 CA Leiden
Room number 116
Contact
No relevant ancillary activities