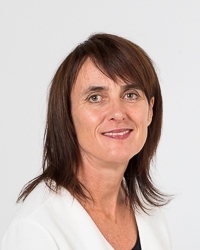 Miranda Boone
Professor of Criminology and Comparative Penology
Name

Prof.mr.dr. M.M. Boone

Telephone

E-mail

ORCID iD
Miranda Boone is Professor of Criminology and Comparative Penology at the Institute of Criminal Law and Criminology.
Since May 15 2017, Miranda Boone is appointed as a Professor of Criminology and Comparative Penology at Leiden University. Prior to that, she worked as a professor in Penitentiary Law and Penology at the University of Groningen and as a senior lecturer Criminal Law and Criminology at Utrecht University.
As a criminologist and a criminal lawyer, Miranda Boone has conducted research at the interface of criminology and criminal law. She is particularly interested in the decision-making processes with regard to the application of sentences from a social science and normative perspective. She conducted research commissioned by the European Commission, the Research Centre of the Justice Department (WODC) and the probation service. Recently she published a textbook on the relation between criminology and criminal law (Boone, Brants and Kool 2016) and a study on prison climate (Boone, Althoff, Koenraadt 2016). Together with Niamh Maguire she edited a volume on breach processes in Europe that will be published by Routhledge in 2017.
Phd-students
Elina Kurtovic: Criminal records and reintegration. The effects of conviction-based employment restrictions on policy efforts to push back recidivism and juvenile ex-offenders' chances and motivation to reintegrate in society (expected promotion date end 2017)
Maaike Beckmann: Criminal records and reintegration. The effects of conviction-based employment restrictions on policy efforts to push back recidivism and juvenile ex-offenders' chances and motivation to reintegrate in society (expected promotion date mid 2018)
Mieke Kox: Illegally residing migrants' understandings of the Dutch immigration system (expected promotion date mid 2019)
Rozemarijn van Spaendonck, Caught between security and treatment: the extension of the tbs-order (expected promotion date november 2019)
Professor of Criminology and Comparative Penology
Faculteit Rechtsgeleerdheid
Instituut voor Strafrecht & Criminologie
Criminologie