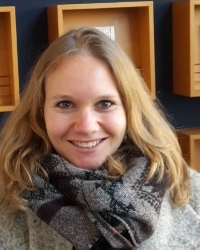 Mette Langbroek
PhD candidate
Name

M.B. Langbroek MA

Telephone

E-mail
Background
Mette obtained a (R)MA (cum laude) in early medieval archaeology from Leiden University in 2016. Her thesis concerned an in-depth study of the use and exchange of amber in the Merovingian period in northwestern Europe. During her studies she also researched the exchange of Mediterranean-produced beads (millefiori beads, reticella beads, amethyst beads and meerschaum (sepiolith) beads) in the 6th and 7th centuries AD. Her research interests cover both the economic and social aspects of early medieval exchange and the significance of bead-studies to uncover socio-economic developments and (global) trade networks in the Merovingian period. Mette also owns a small company called De Oudheidsfabriek that aims to inspire the Dutch public with archeology.
Current research
Mette is currently a research assistant in the ERC project Rural Riches. The bottom-up development of Post-Roman Northwestern Europe (450-640). This project will analyse the importance of the rural population as consumers with access to global trade networks to the post-Roman economic development in northwestern Europe. Until September 2018 Mette and her colleague Femke Lippok will be assembling data of Merovingian sites in the Benelux, western Germany and northern France in order to create a map and database of northwestern Europe in the 5th, 6th and 7th centuries AD. This database will enable the analysis of the societal format at the macro-level of the research area as a whole and at the micro level of local communities.
From September 2018 onwards Mette will conduct a PhD research on the different aspects of the Merovingian exchange system. She will study the material culture of the rural population and the nature of the exchange systems through which they had access to objects with very diverse origins (local, regional, supra-regional, international). This analysis is mainly based on goods deposited in graves, from locally produced pottery to exotic goods from India and Ceylon. Making innovative use of object distribution maps with the help of GIS (in contrast to traditional presence/absence maps) will enable her to analyse the contexts in which the objects circulated and the extent of their prevalence in rural communities. Recent scientific research on glass vessels and beads, for instance, has contributed considerably to our understanding of the movement of finished objects and to some extent raw materials. She will also investigate regional variability in the availability of objects and aim to define the exchange mechanisms in place, as well as create models to demonstrate which agents and networks may have been involved. Particular types of objects will be focused on in detail, such as glass vessels, pottery, garnet-decorated objects and beads. Some of these items were imported from the Mediterranean and beyond (Calligaro et al. 2006/7; Van Wersch et al. 2010; Drauschke 2011, Pion/Gratuze 2016), while others were produced locally.
PhD candidate
Faculteit Archeologie
World Archaeology
Provincial Roman & Medieval Archaeology
Work address
Van Steenis
Einsteinweg 2
2333 CC Leiden
Room number B1.08
Contact
No relevant ancillary activities