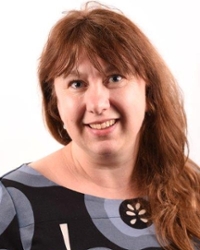 Marlies van der Meer-Kroon
Education Policy Officer
Name

M.E. van der Meer-Kroon MSc

Telephone

E-mail
Marlies van der Meer is a Policy Officer Education for the Faculty Office of the Faculty of Social and Behavioural Sciences. Her activities focus mainly on teaching innovation and teacher-professional development.
Short CV
Marlies obtained her master's degree in Educational Sciences in Utrecht, her main scope being on Digital Learning. She has been working in this field of interest ever since, combining Teaching Quality with the possibilities of Educational Technology.
Marlies is also an external PhD candidate at the Institute of Education and Child Studies. Her supervisor is professor Christine Espiun. Thesis working title: 'Using Learner-System Interaction to Enhance the Digital Learning Experience'.
Work days
Monday, Tuesday, Thursday and Friday.
Education Policy Officer
Faculteit der Sociale Wetenschappen
Faculteitsbureau
Work address
Pieter de la Court
Wassenaarseweg 52
2333 AK Leiden
Room number 3B.07
Contact
PhD candidate / self funded
Faculteit der Sociale Wetenschappen
Instituut Pedagogische Wetenschappen
Leer/Gedragsproblemen in het onderwijs
Freelance Onderwijskundige advisering/ontwerp, Tekstschrijven