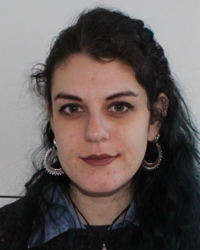 Maria Hadjigavriel
PhD candidate / guest
Name

M. Hadjigavriel

Telephone

E-mail
Maria Hadjigavriel is a PhD candidate at the Faculty of Archaeology.
Office days
Tuesday to Thursday
Research
I am a PhD candidate and Teaching Assistant within the Near East department at the Faculty of Archaeology at Leiden. My research concerns primarily the Archaeology of Cyprus in Prehistory, specifically the Late Chalcolithic and the Early Bronze Age, with a focus on pottery technology and interactions with Anatolia.
Curriculum Vitae
I arrived at the Faculty of Archaeology in Leiden in 2016 for a Research Master, after obtaining my degree in History and Archaeology from University of Cyprus. My thesis, entitled "Connectivity Through Pottery Horizons: Tracing Interactions in Late Chalcolithic Cyprus" investigated intra-insular and extra-insular interactions through the study of pottery technology.

Since September 2019, I have started my PhD research under the supervision of Prof. Peter M.M.G. Akkermans and Dr. Bleda S. Düring. My project is entitled "Cyprus in Context: Tracing Interactions in the 3rd Millennium BC Eastern Mediterranean". The aim of this research is to investigate how objects and technologies were appropriated in cultural contexts of the eastern Mediterranean, and especially in Cyprus in the Late Chalcolithic (ca.2900/2700-2400 BC) and the Philia Phase (ca. 2400-2350/2250 BC), with a focus on the exchange of pottery technologies.

When it comes to fieldwork, I am participating in the Palloures Archaeological Project, the excavation of Leiden University at the Chalcolithic site Chlorakas-Palloures in Cyprus, directed by Dr. Bleda S. Düring.
PhD candidate / guest
Faculteit Archeologie
World Archaeology
Near Eastern
Work address
Van Steenis
Einsteinweg 2
2333 CC Leiden
Room number B1.16
Contact
Education staff member
Faculteit Archeologie
Archeologie Onderwijsbureau
Work address
Van Steenis
Einsteinweg 2
2333 CC Leiden
Contact
No relevant ancillary activities