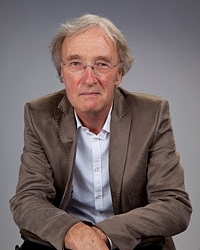 Leo de Sonneville
Guest
Name

Dr.ir. L.M.J. de Sonneville

Telephone

E-mail

ORCID iD
Short CV
Leo de Sonneville is a research neuropsychologist. He graduated as a civil engineer at Delft University of Technology (1972) and as a psychologist at the University of Amsterdam (1981). He received his PhD at the Medical faculty of the VU University Amsterdam (1988). Between 1981-2005 he fully dedicated himself as researcher or PI to the investigation of neuropsychological determinants or consequences of illnesses at the VU University Medical Center, departments of Pediatrics and Pediatric Neurology, and at the Institute of Developmental Neurology of the University Medical Center Groningen.

Since 2005 he has worked as Associate Professor at the Institute for Education and Child Studies, Leiden University, and the Leiden Institute for Brain and Cognition. For many years he was visiting researcher in Germany, Austria, Italy and the USA. In Amsterdam and Groningen he investigated the neuropsychological consequences and effects of the treatment of somatic diseases, such as (pediatric) neurological dysfunction, PKU, leukemia (ALL) and MS.
Research
His research in Leiden focuses on the investigation of risk factors for the development of psychopathology and its consequences in children and adolescents (ADHD, autism, psychosis, Klinefelter syndrome). His work reflects a broad and passionate interest in the (development of) basic processes that underlie the execution of complex cognitive processes, in particular attention and executive functions, in relation to neurological and psychiatric disorders.

Leo designed and developed the Amsterdam Neuropsychological Tasks (ANT) programme, which is used in many institutes in The Netherlands and abroad for diagnostic purposes as well as scientific research.
Awards
P&C Hoofdprijs (Psychology and Computers Award) 1995; issued by the NIP (Dutch Institute for Psychologists), acknowledgement of the ANT programme as the "best computer application in the field of applied psychology".
Grants
Since 1985 Leo de Sonneville has received € 1.7 million (uncorrected for inflation) of research grants. The most important sponsors were the Netherlands Organization for Health Research and Development (ZonMw) and the Dutch Cancer Society.
Relevant links
Additional activities
Leo de Sonneville is director of Sonares BV in Amsterdam. This company takes care of further development and maintenance of the ANT programme, the distribution of the ANT programme abroad, and gives advice on research protocols implementing the ANT programme and analysis of ANT data.
Guest
Faculteit der Sociale Wetenschappen
Instituut Pedagogische Wetenschappen
Neuropedagogiek en ontwikk. stoornissen
uitvoering wetenschappelijk onderzoek