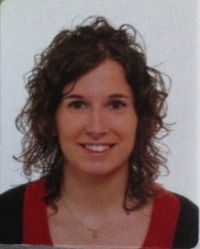 Laia Querol Cano
postdoc
Name

Dr. L. Querol Cano

Telephone

E-mail
Research
Research in Dr. Haramis's laboratory focuses on understanding tissue homeostasis, how do tissues respond to different energy level situations and the links between cell metabolism and growth control. We are particularly interested in elucidating the effects of lkb1 in metabolism.
Lkb1 is tumour suppressor gene encoding for a serine-threonine kinase known to activate AMP-activated kinase (AMPK), which is in turn known to regulate cell and tissue metabolism in relation to cell energy supplies as well as cell growth through the mTOR pathway.
The major aim of my project is to further characterise the LKB1/AMPK signalling pathway and its role in the initiation and development of cancer processes. For this purpose, I will use the lkb1 mutant zebrafish model already established in the group as a discovery platform for synthetic chemical screens and to further identify the downstream effectors responsible for the deficiency in energy control previously described in lkb1 mutant embryos.
This approach will allow us to further define through which processes does LKB1 contribute to cancer progression and to potentially develop new lines of treatment.
postdoc
Science
Instituut Biologie Leiden
IBL Office
Work address
Sylvius
Sylviusweg 72
2333 BE Leiden
Room number 6.516a
Contact
No relevant ancillary activities