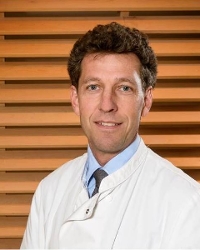 Johannes Verschuuren
Professor Neurology
Name

Prof.dr. J.J.G.M. Verschuuren

Telephone

E-mail
Jan Verschuuren is a professor of neuromuscular diseases and head of the Department of Neurology. He is trained as a clinical neurologist and as immunologist (SMBWO registered). He always has had a strong interest in basic neurosciences, immunology, and neuromuscular diseases. Currently, he is head of the Dutch Duchenne Centre.
More information about Johannes Verschuuren
Neuromuscular Diseases
Neuromuscular diseases comprises a group of about 600 different disorders. Most are rare, and several are even ultra-rare, and mainly caused by genetic problem or an acquired immunological dysfunction. Both peripheral nerves and muscle, as well as the specialized structures that connect nerve cells and muscle fibers, are essential for all our movements. Opening your eyes, speaking, swallowing, walking or playing sports, every activity in daily life depends on correct functioning of one or more of the about 650 muscles in our body. Remarkably, every neuromuscular disease has an unique pattern of muscle weakness, which immediately indicates that there are huge differences among the muscles in our body. A muscle is not just a muscle, but is highly specialized depending on the site and function. Compare, for example, one of the tiny eye muscles, which produce low force at the very high level of precision, to a very large muscle, like the quadriceps, that is used to produce brute force for sprinting or ice skating.
The research of the neuromuscular team in the LUMC has concentrated around five neuromuscular diseases, including myasthenia gravis (MG and LEMS), Duchenne and Becker muscular dystrophy (DMD and BMD), inclusion body myositis (IBM), facioscapulohumeral muscular dystrophy (FSHD), and oculopharyngeal muscular dystrophy (OPMD). The clinical team of Jan Verschuuren functions as a national referral centre for MG and LEMS patients, as well as for DMD and BMD, and has been involved in clinical, epidemiological, electrophysiological and immunological studies. The neuromuscular group at the LUMC has been participating in several clinical trials and is involved in translational research projects with a strong collaboration with the department of Human Genetics.
Academic career
Jan Verschuuren was trained as a clinical neurologist at Maastricht University Medical Centre. The title of his doctoral thesis (1989) reads "Experimental Autoimmune Myasthenia Gravis. Antibodies, idiotypes and anti-idiotypes". Jan Verschuuren specialized in neuromuscular diseases and immunology, and became an SMBWO-registered immunologist since 1995. He worked in Memorial Sloan-Kettering Cancer Center in New York with professor Jerome Posner and prof Josep Dalmau on paraneoplastic autoimmune diseases, among which the Lambert-Eaton myasthenic syndrome. In 1995 he joined the neurology staff at the LUMC. In 2010 he was appointed professor of Neuromuscular Disease, supported by the Prinses Beatrix Spierfonds. The title of his thesis was "Tijd voor gespierde taal", which can be translated as "Time for muscular (read: strong) language". Since 2017 he is head of the Department of Neurology at the LUMC.
Jan Verschuuren has been active in the neuromuscular field for many years. He has over 200 scientific publications, various reviews and several bookchapters to his name. He has been advisor for the Dutch Neuromuscular Patient organisation (Vereniging Spierziekten Nederland) on myasthenic disorders. At the moment he is chair of the Dutch Duchenne Centre. He was the principal investigator of the first-in-man antisense oligonucleotide "exon-skippong"trial in 2006 in Duchenne muscular dystrophy. In the past he was a board member and later on chair of the ISNO, the Dutch Neuromuscular Research Centre, presently known as the Dutch Neuromuscular Centre (Spierziekten Centrum Nederland). He was a member of the Biemond Committee, a committee organizing twice-yearly teaching courses for the Dutch Society of Neurology, and chair of the Database Oversight Committee of TREAT-NMD Alliance.
Professor Neurology
Faculteit Geneeskunde
Divisie 3
Neurologie
Consultancy
Research collaboration industry
Royalties for teaching books
Research collaboration industry
Royalties for immuno assay
adviseur voor de spierziekte myasthenia gravis
Adviseur voor de spierziekte myasthenia gravis