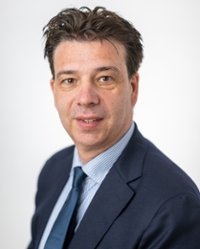 Jan van de Streek
Professor Tax Law
Name

Prof.dr. J.L. van de Streek

Telephone

E-mail

ORCID iD
Jan van de Streek is Professor of Tax Law, Research Coordinator at the Department of Tax Law and a member of the Faculty Research Board of the E.M. Meijers Institute.
Jan van de Streek is Professor of Tax Law, Research Coordinator at the Department of Tax Law and a member of the Faculty Research Board of the E.M. Meijers Institute. The full CV of Jan van de Streek can be downloaded here.
Education and career
Van de Streek studied tax economics and business economics at Erasmus University Rotterdam (2002) as well as tax law at Leiden University (cum laude, 2002). In 2008 he obtained his doctorate from the University of Amsterdam with a thesis on the (cross-border) reorganisation of legal entities. From 2003 to 2020, he worked at the University of Amsterdam, most recently as professor of tax law at the Faculty of Law and as programme director of the bachelor's in Fiscal Economics at the Faculty of Economics and Business Administration. On 1 January 2021, he was appointed Professor of Tax Law at Leiden University. In addition to his academic career, Van de Streek was employed at Ernst & Young Tax Advisers from 2003-2013 and at Loyens & Loeff from 2014-2017. Van de Streek is a member of the European Association of Tax Law Professors (EATLP).
Research
Van de Streek conducts research on the taxation of both small and medium-sized enterprises and multinational enterprises. Recurring themes within his research are: (i) tax avoidance by multinationals; (ii) interaction between tax and corporate law; and (iii) European tax harmonisation. Van de Streek is co-author and co-editor of the Dutch standard work on corporate taxation. In 2018 he played a prominent role in the public debate in the Netherlands on the government's intention to abolish the dividend tax. His publication on the settlement agreement that oil company Shell made with the Dutch tax authorities regarding the so-called dividend access mechanism led to a shock in Dutch politics and Dutch society. For this research and his collaboration with investigative journalism he was awarded the Saskia Stuiveling Prijs. Van de Streek is co-founder of the research project Fiscal Transparency.
Teaching
Van de Streek lectures the following courses: Introduction to Tax Law, Direct Taxes I, Corporate Income Tax and Corporate Tax Policy. He is the author of a study book including more than 100 case studies on corporate income taxation.
Committees, hearings, etc.
In 2017, Van de Streek served on the Dutch parliament's Advisory Committee for the hearings on tax planning structures. In 2019-2020, he was part of the Advisory Committee on the Taxation of Multinationals set up by the State Secretary of Finance, which delivered the report Towards Balance in Corporate Taxation on 20 April 2020. Van de Streek participated in roundtable meetings in the Dutch Parliament on topics including private equity (2015), dividend withholding tax (2017), taxation of multinationals (2019) and the exit-tax on dividends (2020). In 2018, he participated in the Ministry of Finance's stakeholder dialogue on tax avoidance and tax evasion.
Other
Van de Streek regularly serves as an expert for a variety of politicians at home and abroad, investigative journalists and a wide range of civil society organisations on tax issues. Together with Felix Peppelenbosch, he is the initiator of the Foundation for Fiscal Debate which aims to narrow the gap between politics, science, citizens, and business in the area of taxation.
Professor Tax Law
Faculteit Rechtsgeleerdheid
Instituut Fiscale en Economische vakken
Belastingrecht
Organiseren van fiscale cursussen voor fiscalisten
Auteurs- en redacteurswerzkaamheden, verzorgen van lezingen etc.