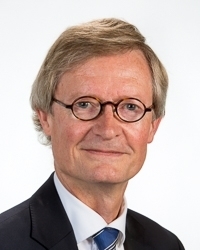 Jacob Hijma
Professor emeritus Civil Law
Name

Prof.mr. J. Hijma

Telephone

E-mail
J. Hijma is connected to the Institute for Private Law as professor since 1989.
Jacob (Jaap) Hijma was born in Leeuwarden, Frisia, The Netherlands, in 1955.
From 1973 to 1978 he studied Law at the University of Leiden, The Netherlands. From 1978 to 1988 he was a lecturer at this University, teaching Civil Law. In 1985-1986 he was a fellow of the Netherlands Institute for Advanced Study (NIAS) in Wassenaar, where he wrote his thesis regarding null and annullable contracts (Nietigheid en vernietigbaarheid van rechtshandelingen), defended cum laude in 1988. His promotor was prof. dr. W.M. Kleijn.
Since 1988 Hijma is a full professor of Civil Law at Leiden University. His main research fields are Contract Law, the further Law of Obligations and Consumer Law. He wrote various books and articles. Among his publications are: Volume 7-I* of the Asser-series ( Sale and exchange; 8th edition, 2013), Compendium van het Nederlands vermogensrecht ( Compendium of Dutch patrimonial law, with M.M. Olthof; 12th edition, 2014), Rechtshandeling en Overeenkomst ( Juridical Act and Contract, with A.R. Bloembergen, C.C. van Dam, W.A.M. van Schendel and W.L. Valk; 7th edition, 2013) , Algemene voorwaarden ( General conditions, 3rd edition, 2010) and Bedenktijd in het contractenrecht ( Cooling-off periods in contract law, 2004). He is editor of several juridical books, book series and magazines (WPNR, GS Vermogensrecht, Monografieën Privaatrecht, Studiereeks Burgerlijk Recht).
Hijma is a Honorary Justice in the Court of Appeal at Arnhem (Arnhem-Leeuwarden), The Netherlands.
Professor emeritus Civil Law
Arbiter of adviseur
Raadsheer-plaatsvervanger
Auteur en redacteur
Redacteur WPNR