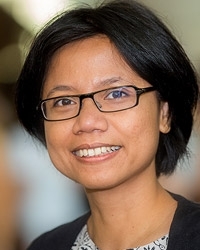 Irene Hadiprayitno
University Lecturer International Studies
Name

Dr.mr. I. Hadiprayitno

Telephone

E-mail

ORCID iD
Irene Hadiprayitno teaches International Studies and Southeast Asian Studies with Leiden Institute for Area Studies and conducts research on political, economic and social dimensions of human rights negotiations within varieties of contexts and issues. Her articles have appeared in Human Rights Review, Development in Practice, Global Jurist, International Journal for Minority and Group Rights, Third World Quarterly, etc. She currently serves as co-editor for the Palgrave Macmillan's Book Series on Human Rights Interventions.
More information about Irene Hadiprayitno
Research
My works discuss the dialectical interplay between global and local human rights at the levels of norms, discourses, and practices, specifically in relation to market liberalisation and democratisation. More generally, my research interests include political agency, legal pluralism, and socio-economic equality. Recently I have written a number of articles attempting to situate agricultural modernisation in Papua in the context of global human rights struggles, and am currently working on the subject of consensus and dissensus on human rights in ASEAN.
Curriculum vitae
I was born in Yogyakarta, Indonesia and studied International Relations (BA) at University of Indonesia (2000). My master degree is on International Protection on Human Rights (LLM) from Utrecht University (2001). In 2009, I obtained my PhD from Utrecht University's Netherlands Institute of Human Rights (SIM) where I wrote my dissertation on the right to development and development hazards. Before joining Leiden, I worked as a postdoc and lecturer at the Law and Governance Group, Wageningen University (2009-2013). In 2014, I was a visiting fellow at the Institute for Advanced Studies in the Humanities, the University of Edinburgh.
University Lecturer International Studies
Faculty of Humanities
Leiden Institute for Area Studies
SAS Indonesie
Work address
Schouwburgstraat
Schouwburgstraat 2
2511 VA The Hague
Room number B1.07
Contact
No relevant ancillary activities