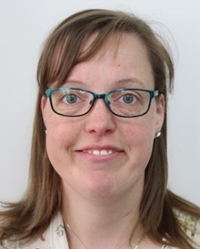 Ilse Kamerling
Laboratory Assistant
Name

Dr. I.M. Kamerling

Telephone

E-mail

ORCID iD
Ilse Kamerling is the laboratory assistant in the Archaeobotanical Labs
Research
I am the laboratory assistant in the archaeobotanical labs; this involves making sure that health and safety procedures are up to date and followed by all users, making sure that the correct stock and consumables are available when required, setting up practicals, maintaining the reference collections (both plant macrofossils and pollen) held in the labs and keeping the spaces nice, clean and organised.

As a palynologist by training, my expertise is in facilitating the processing of samples for pollen analysis, as well as teaching students to identify and count pollen, and process and interpret their data. Where time allows it, I like to look at material myself, from settings/environments beyond my north-western European comfort zone, to work on improving my my identification skills. In my free time also run a facebook page called Palynology Platform, where anyone with an interest in palynology can exchange knowledge and ideas, ask for help with identifications, advertise conferences and PhD positions and jobs etc.

On top of that I am slowly expanding my skill set and starting to dip my toe into the world of botany and plant macrofossil analysis, specifically carpology.
Curriculum vitae
Oct 2021 – present: Honorary research fellow in Geosciences, School of Geosciences, University of
Aberdeen, Aberdeen, UK

August 2018 – Oct 2021: Technician, School of Geosciences,
University of Aberdeen, Aberdeen, UK

March 2015 – March 2020: Owner, pollen analyst and consultant (forensic) palynology @PalynologIK

June 2017 – August 2018: Teaching and Research Technician, School of Archaeology, Geography and
Environmental Science, University of Reading, UK

August 2016 – August 2018: Honorary research fellow in Geosciences, School of Geosciences, University of
Aberdeen, Aberdeen, UK

August 2014 – July 2016: Postdoctoral research fellow in Palaeoecology, Department of Geography and Environment, University of Aberdeen, Aberdeen, UK

Oct 2009-July 2014: Doctoral researcher in Geography/Palaeoecology, University of Aberdeen, Department of Geography and Environment, Aberdeen, UK. Thesis title: "The impacts of Sami reindeer herders and Nordic farmers on the boreal forest landscapes of northern Sweden (AD 1-2000) – a palynological study"

2005-2009: Msc Palaeoclimatology and Geo-ecosystems, Vrije Universiteit, Amsterdam, The Netherlands

2002-2005 : Bsc Earth sciences track I : Geology, Vrije Universiteit, Amsterdam, The Netherlands
Laboratory Assistant
Faculteit Archeologie
Archaeological Sciences
Bio-Archaeology
Work address
Van Steenis
Einsteinweg 2
2333 CC Leiden
Room number D1.12
Contact
No relevant ancillary activities