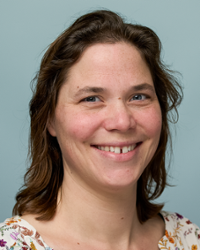 Hinke Endedijk
Assistant professor
Name

Dr. H.M. Endedijk

Telephone

E-mail

ORCID iD
Short CV
Hinke Endedijk is Assistant Professor Educational Science (Pedagogical Science) since September 2019. During her work as Assistant Professor at Utrecht University she examined teacher-student relationship and peer relationships in inclusive education. Her doctoral research (2016) at the Behavioural Science Institute and Donders Institute, Radboud University Nijmegen, focused on cooperation and peer acceptance in young children.
Research
The central theme in Hinke her work is Inclusive Education, especially teacher professionalization. Her ambition is to make teacher more competent in dealing with behavioral problems in the classroom. Behavior is communication. Questions that are important are: What is the function of this behavior? What are the educational needs of this student? How can the teacher support this student while at the same time teaching other students? For example, in her current research she studies how teachers can be supported in understand what the educational needs of students are and what role teacher-student relationships and interactions have for the cognitive and social development of a student. Other concepts she studies are differentiation, executive functions and motivation.
Grants and awards
NRO-grant (2018) for a study about the role of the teacher for peer relationships in inclusive education (50.000 euro).
Assistant professor
Faculteit der Sociale Wetenschappen
Instituut Pedagogische Wetenschappen
Onderwijswetenschappen
Work address
Pieter de la Court
Wassenaarseweg 52
2333 AK Leiden
Room number 4B13A
Contact
Redactielid Tijdschrift van Orthopedagogiek