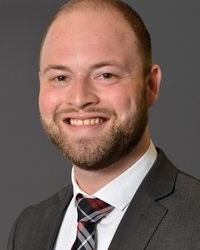 Frank Bentvelzen
PhD candidate
Name

Mr. F.C. Bentvelzen

Telephone

E-mail
About
Frank Bentvelzen studied law at the University of Groningen. After finishing his bachelor's degree, he completed the Research Master 'Legal Research', with a focus on private law subjects (LLM cum laude, 2017). During his master's, he also studied a semester at the McGill University in Montreal (2015).
He was a student assistant at the department of private law in Groningen and did internships at the law firms Trip Advocaten & Notarissen (2014) and Stibbe (2016). During his final study year he was a legal assistant at De Brauw Blackstone Westbroek (2016-2017).
Bentvelzen is mainly interested in civil procedural law. His research focuses on 'legal remedy bans' (rechtsmiddelenverboden): provisions which limit the access to the higher civil courts.
Title of dissertation
Research topic: Legal remedy bans (rechtsmiddelenverboden)
Languages
Dutch / English / French (basic proficiency)
PhD candidate
Faculteit Rechtsgeleerdheid
Instituut voor Privaatrecht
Civiel recht
No relevant ancillary activities