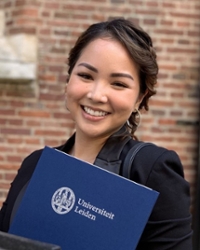 Daphne Wong-A-Foe
PhD candidate
Name

D.L. Wong-A-Foe

Telephone

E-mail
Daphne is a PhD candidate within the project One Among Zeroes |0100|: Towards an Anthropology of Everyday AI in Islam. Currently, she investigates narratives and imagery of AI-religious-futures in the national setting of Indonesia with the largest Muslim nation in the world.
More information about Daphne Wong-A-Foe
Daphne completed her Media Technology MSc degree cum laude, at the Leiden Institute of Advanced Computer Science (LIACS), Leiden University, after writing her thesis Similar or Disparate Brain Patterns? EEG Variability in Jaran Kepang Dancers. Her thesis research used EEG recordings to study aspects of traditional Javanese Jaran Kepang dancing, something she holds close to her heart.
Before coming to Leiden University, Daphne obtained her BSc in User Experience Design (UXD) at The Hague University of Applied Sciences (THUAS). Her utmost interest lies at the intersection of user experience, cultural anthropology, design, and technology. She aspires to become a creative researcher and contribute to her home country of Suriname.
PhD candidate
Faculteit der Sociale Wetenschappen
Culturele Antropologie/ Ontw. Sociologie
No relevant ancillary activities