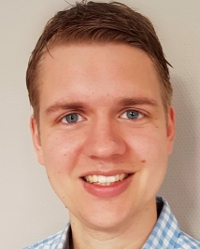 Chris Hoeboer
Postdoc
Name

Dr. C.M. Hoeboer

Telephone

E-mail

ORCID iD
Chris obtained his research master's degree in Clinical and Health psychology at Leiden University in 2017. He wrote his master thesis about the effect of emotional abuse on the severity and treatment of PTSD symptoms in adolescents with Bernet Elzinga and Carlijn de Roos. During his internship, Chris worked at the IMPACT study of Leiden University and PsyQ The Hague. Thereafter, Chris continued to work at the IMPACT study as PhD candidate together with Danielle Oprel (PhD candidate), Maartje Schoorl (copromotor), Rianne de Kleine (copromotor), Willem van der Does (promotor) and Agnes van Minnen (promotor).
Research: the IMPACT study
We aim to evaluate three types of treatments for adults with Childhood Abuse related Post-Traumatic Stress Disorder (CA-PTSD): prolonged exposure (16 sessions in 16 weeks), intensified prolonged exposure (12 sessions in 4 weeks and 2 booster sessions) and phase based treatment (8 sessions emotion regulation and interpersonal skills training with STAIR followed by 8 sessions prolonged exposure in 16 weeks). We will investigate the reduction in PTSD symptoms and other PTSD related symptomatology, the cost-effectiveness of the treatments and differences in dropout between the treatments. Additionally, we will investigate whether there are patient characteristics which are related to the effectiveness of the treatment.
Relevant links
Postdoc
Faculteit der Sociale Wetenschappen
Instituut Psychologie
Klinische Psychologie
No relevant ancillary activities