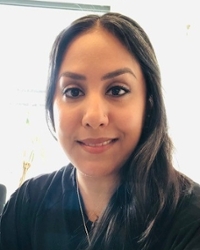 Asmaa Khadim
Postdoc
Name

Dr. A.N. Khadim

Telephone

E-mail
Asmaa Khadim is a postdoctoral researcher in Institutions for Conflict Resolution, a research project implemented as part of the Dutch national sector plan for law at Leiden Law School.  Her research centres around environmental constitutionalism, with a primary focus on comparative constitutional law, environmental and Indigenous rights, natural resource conflicts, cumulative impact management, and government accountability. Her regional focus is on socio-environmental conflicts in the Americas, particularly Canada, Argentina, Chile and Costa Rica. Asmaa previously held academic positions as a lecturer in Queensland, Australia, teaching courses in international environmental law, public international law, the law of international organisations, Canadian constitutional law and Canadian criminal law, at the undergraduate and postgraduate levels. Prior to entering academia, she worked in private practice as a Barrister and Solicitor in Ontario, Canada, and was admitted as a lawyer in both Ontario and New South Wales.
'Shouldn't we all have the right to a healthy environment? To have clean air and water, and access to nature for pleasure, for sustenance, or to practice time-honoured customs and traditions? Do future generations of humans and other species not deserve the same? How can the law protect such rights? What are the best legal mechanisms for ensuring a fair balance between competing priorities, especially where the stakes are high, as in the case of lucrative mining projects? These are just some of the questions that drive my research.'
Asmaa Khadim graduated from McGill University with a BSc in psychology and international development studies. She then obtained an LLB at Osgoode Hall Law School, York University, specialising in international, comparative and transnational law. After a number of years working in private practice, she completed a PhD at the Sustainable Minerals Institute of The University of Queensland. Her PhD thesis, Environmental rights and extractive industries in Canada and Argentina: a comparative constitutional analysis, analysed resource conflicts relating to oil sands development and gold mining to explore the benefits of constitutionally entrenching environmental rights. In particular, this research considered how litigants pursued their environmental rights claims in each jurisdiction, and how the courts analysed these claims in light of the existence or absence of constitutional rights.
Asmaa continues to explore the merits of constitutional approaches in addressing challenging socio-environmental conflicts. Her research considers how constitutional environmental rights address inadequate participatory processes and increase accountability and transparency in environmental decision making, thereby significantly improving access to justice. It also examines how constitutional provisions can mandate better management of the cumulative impacts of development, in regions where resource projects are densely concentrated. These issues are tied to the question of how constitutional environmental rights may contribute to the effective and equitable resolution of conflicts around contentious resource projects.
In her research on socio-environmental conflicts, Asmaa incorporates ethnographic and contextual approaches from other disciplines into traditional comparative constitutional analyses. This allows for deeper insights into the complex manner in which rights are protected, asserted and implemented. Through her research, she aims to contribute to the reform of domestic governance structures in a manner that supports a more symbiotic and holistic relationship between humans and nature, one that empowers individuals and communities.
Asmaa's research takes place within the context of the research project Institutions for Conflict Resolution.

Publications:

Scholarly
Khadim, A, 'Constituent power, legitimacy and public mistrust in the Canadian oil sands' (2023) Utrecht Law Review (under review).
Khadim, A, 'Constitutional environmental rights: A "snowball effect" to counter climate change?' (2023) Global Justice: Theory, Practice, Rhetoric (under review).
Khadim, A, 'The Argentine Supreme Court: An institution for environmental protection?' (2023) European Law Journal (under review).
Khadim, A and van Eijken, H, 'A citizen-centric approach to evidence-based decision-making under the European Green Deal' (2022) 24(1) European Journal of Law Reform 28.
Khadim, A, 'Environmental rights and extractive industries in Canada and Argentina: a comparative constitutional analysis' (PhD Thesis, The University of Queensland, 2021).
Khadim, A, 'Section 35 Aboriginal Rights: Evolving Understandings in a Changing World of Consultation Duties' (2018) 35 (1-2) Australasian Canadian Studies 37.
Khadim, A, 'Defending Glaciers in Argentina' (2016) 28 (1) Peace Review 65.
Khadim, A, Regulation of Aggregates in Queensland: A Background Paper (Occasional Paper Series: Centre for International Minerals and Energy Law, TC Beirne School of Law, University of Queensland, February 2015).
Other
Khadim, A, 'Constitutional Ethnography', Leiden Law Methods Portal (11 April 2022).
Khadim, A, 'Choosing the Right Comparative Constitutional Law Methodology', Leiden Law Methods Portal (12 April 2022).
Khadim, A, 'The Argentine Supreme Court: An environmental protection force to be reckoned with', Leiden Law Blog (10 June 2022).
Hunter, T and Khadim, A, Best Practice for Access to and Supply of Aggregate in Australia: A Regulatory Assessment (Report, Cement Concrete and Aggregates Australia (CCAA), 2014).
Khadim, A, 'Sovereign Wealth Fund Divestment as an Environmental Protection Strategy', National Geographic (22 November 2014).
Postdoc
Faculteit Rechtsgeleerdheid
Instituut voor Strafrecht & Criminologie
Criminologie
No relevant ancillary activities