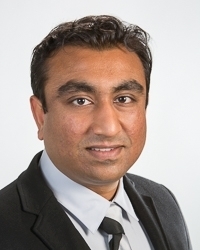 Arsjad Muradin
Guest Staff Member
Name

Mr.drs. M.A. Muradin

Telephone

E-mail
Arshad Muradin is a PhD candidate at the Van Vollenhoven Institute and a lecturer at the Institute for Area Studies.
Title research
Making Islam work in the Netherlands. Islamic authority and Islamic law in the Netherlands among ordinary Muslims: recent trends and developments.
Arshad Muradin is a PhD candidate at the Van Vollenhoven Institute. His research interests include Islam in the West, Islamic family law, Alternative Dispute Resolution (ADR), and Private International Law. He studied Law and Islamic Theology (Arabic) at Leiden University and acquired a Master degree in both disciplines.
He focuses on the study of contemporary Islam in the European context from a predominantly socio-legal perspective. Arshad currently works on a PhD thesis which is part of the Netherlands Organisation for Scientific Research (NWO) funded research project: "Making Islam Work in the Netherlands. Islamic Authority and Islamic Law in the Netherlands among Ordinary Muslims: Recent Trends and Developments".
The project is a research into recent developments in the ways Islam takes shape in Dutch society. It focuses on the doctrinal, legal and institutional dimensions of Islam and addresses two separate but closely interlinked central domains: (1) religious authority and leadership, and (2) the creation and application of Islamic law in the context of counseling and mediation. Arshad will focus on the latter, and more particularly on the use of extra-judicial dispute resolution and the experiences of 'ordinary Muslims' in the Netherlands.
The research will be conducted in Amsterdam, Rotterdam, The Hague, Utrecht and Leiden, cities with a relatively large Muslim population with a mixed ethnic and social background. This will be done in close cooperation with a large number of societal partners who also financially contribute to the project. They range from Dutch ministries and municipalities to political parties and non-governmental religious and non-religious organizations.
Guest Staff Member
Faculteit Rechtsgeleerdheid
Instituut voor Metajuridica
Van Vollenhoven Instituut
No relevant ancillary activities