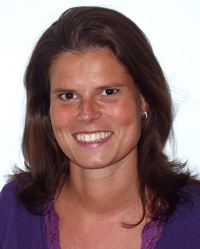 Anne van Giezen
Assistant Professor
Name

Dr. A.E. van Giezen

Telephone

E-mail
Anne van Giezen works at the Department of Clinical Psychology of the University of Leiden. She is the Master thesis Coordinator Clinical Psychology, Master internship coordinator Clinical Psychology, mentor for master students Clinical Psychology and member of the Master's Programme Committee (MOC). She also works as a Psychologist and researcher at PsyQ department of Anxiety (TOP GGZ) in The Hague. She works on 2 research projects in collaboration with PsyQ. First research project studies the effectiveness of Mindfulness based cognitive therapy in treatment refractory anxiety patients. Second project is a PHD project on the effectiveness of group schema therapy (GST) for social phobia and comorbid avoidant personality disorder, which is conducted on the department of anxiety disorders of PsyQ in The Hague and Rotterdam. This project has as primary objective to compare group-CBT (GCBT) and group ST (GST) in the treatment of social phobia with comorbid avoidant personality disorder by means of a Randomized Controlled Trial .
Relevant links
Assistant Professor
Faculteit der Sociale Wetenschappen
Instituut Psychologie
Klinische Psychologie
Baljé A., Greeven A., Van Giezen A., Korrelboom K., Arntz A. & Spinhoven P. (2016), Group schema therapy versus group cognitive behavioral therapy for social anxiety disorder with comorbid avoidant personality disorder: study protocol for a randomized controlled trial, Trials 17: e487.
Odinot G., Wolters G. & Van Giezen A. (2013), Accuracy, confidence and consistency in repeated recall of events, Psychology, Crime & Law 19(7): 629-642.
De Klerk S., Van Noorden M.S., Van Giezen A.E., Spinhoven P., Den Hollander-Gijsman M., Giltay E.J., Speckens A.E.M. & Zitman F.G. (2011), Prevalence and correlates of lifetime deliberate self-harm and suicidal ideation in naturalistic outpatients: The Leiden Routine Outcome Monitoring study, Journal of Affective Disorders 133(1-2): 257-264.
De Klerk S., Van Emmerik A. & Van Giezen A. (2010), Omgaan met zelfbeschadiging en suïcidaal gedrag, PsychoPraktijk 2(4): 22-24.
Slotboom A.M., Bijleveld C., Day S. & Van Giezen A. (2008), Gedetineerde vrouwen in Nederland: Over import- en deprivatiefactoren bij detentieschade. Amsterdam: Vrije Universiteit.
Giezen A.E. van (8 November 2007), A memory like an elephant? The consistency of memory for emotional events. (PhD thesis. Department Clinical, health and neuropsychology, Faculty of Social and Behavioural Sciences, Leiden University). Supervisor(s) and Co-supervisor(s): Spinhoven P., Arensman E.
Kremers I.P., Giezen A.E. van, Does A.J.W. van der, Dyck R. van & Spinhoven P. (2007), Memory of childhood trauma before and after long-term psychological treatment of borderline personality disorder., Journal of Behavior Therapy and Experimental Psychiatry 38: 1-10.
Giezen A.E. van, Arensman E., Spinhoven P. & Wolters G. (2005), Consistency of memory for emotionally arousing events: a review of prospective and experimental studies., Clinical Psychology Review 25: 935-953.
opleiding tot GZ psycholoog