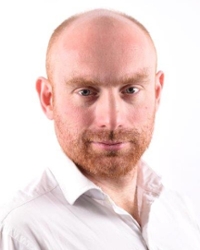 Andrew Littlejohn
Assistant Professor
Name

Dr. A.L. Littlejohn

Telephone

E-mail

ORCID iD
Short CV
Andrew Littlejohn is an assistant professor at the Institute of Cultural Anthropology and Development Sociology of Leiden University. His teaching specialties include political ecology and environmental anthropology, qualitative methods, ethnographic media (particularly sonic ethnography), and the anthropology of Japan. Prior to joining Leiden, he held a Postdoctoral Fellowship in the Weatherhead Center for International Affairs' Program on U.S.-Japan Relations at Harvard University, where he received his PhD in Social Anthropology with a secondary field in Critical Media Practice in 2017. He has also studied Cultural Anthropology at Oxford University (M.Phil.) and Japanese at the School of Oriental and African Studies, University of London (B.A.). Alongside his teaching and research, he produces works of audiovisual media with a particular focus on the ethnographic and documentary possibilities of sound.
Research
The core question motivating dr. Littlejohn's current research is how to live sustainably in a world damaged by both intensifying hazards and the technologies we develop to mitigate them. His book project, based on 16 months of fieldwork funded by the Japan Foundation, examines these issues in the context of Japan's 2011 tsunami and its aftermath. Drawing on spatial theory, political ecology, and ontological anthropology, the project explores how both disaster and reconstruction have turned the sustainability of local ecologies, economies, and identities into matters of concern. Alongside his written work, he uses techniques from artistic, experimental, and ethnographic media production—particularly sound art and sonic ethnography—to create works evoking the non-discursive dimensions of human lifeworlds. His creative work has been presented at festivals in the US, UK, and Asia.
Assistant Professor
Faculteit der Sociale Wetenschappen
Culturele Antropologie/ Ontw. Sociologie
Fraser T., Aldrich D.P., Small A. & Littlejohn A.L. (2020), In the hands of a few: Disaster recovery committee networks, Journal of Environmental Management .
Littlejohn A.L. (2020), Museums of themselves: disaster, heritage, and disaster heritage in Tohoku, Japan Forum : 1-21.
Littlejohn A.L. (2020), Dividing Worlds: Tsunamis, Seawalls, and Ontological Politics in Northeast Japan, Social Analysis 64(1): 24-43.
Littlejohn A.L. (19 October 2018), The Price of Safety: Understanding Anti-Seawall Sentiment in Post-Tsunami Japan. Leiden Anthropology Blog. Leiden University: Institute of Cultural Anthropology and Development Sociology [blog entry].
Littlejohn A. (8 May 2015), Kore kara: kenkyū mirai e no kyōkun ni/dai 23 bu・misueru Interviewed by [interview].
Bestor T., Littlejohn A., Luo J., Murray A., Song G., Jiang S.X., Chen C., Endo K., Iwamura T., Hiraoka Y., Mazereeuw M., Margul J., Mori S., Milner S., Saladino N., Tajima T., Kumaki H., Tsugawa Y. & Senju H. (2012), The Sanriku Project. Boston: Harvard for Japan.
No relevant ancillary activities