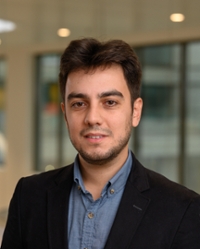 Ahmet Serdar Günaydin
PhD candidate / guest
Name

A.S. Günaydin

Telephone

E-mail
Ahmet Serdar Günaydin is a PhD candidate at the Institute of Security and Global Affairs at Leiden University. His thesis focuses on the United Nations special political missions and their approaches in fostering national dialogues and policy reforms. He explores the impact of multilateral diplomatic efforts from the local and national perspectives, and particularly in the contexts of the countries in the Middle East. His supervisors are Prof. Dr. Joachim Koops and Dr. Vanessa Newby. Serdar's research interests include conflict and peace studies, international diplomacy and alliances, and politics in the Middle East.
Serdar has an MA in Middle Eastern Studies from the American University of Beirut, and a BA in Political Science and International Relations from Istanbul Şehir University. He also holds a BA in Economics from Anadolu University. Outside the university, Serdar has had work experience in banking and humanitarian sectors.
In his master's thesis titled 'Building Peace Through Liberal Constructs', Serdar explores concepts of violence, civil society, and youth as the components of peacebuilding and inquires the reflection of these components on the Lebanese and Cypriot contexts. His thesis has been awarded a research grant by the Nadim Makdisi Memorial Fund.
Serdar joined the Institute of Security and Global Affairs at Leiden University in 2020. He is also part of a postgraduate fellowship program by the Turkish Ministry of National Education.
PhD candidate / guest
Faculty Governance and Global Affairs
Institute of Security and Global Affairs
War, Peace and Justice
No relevant ancillary activities