Research project
SysMedPD: Systems Medicine of Mitochondrial Parkinson's Disease
The overall objective of this project is to identify novel drug candidates that are capable of slowing down the progression of neurodegeneration in the subset of Parkinson's disease (PD) patients with overt mitochondrial dysfunction. Multimodal phenotypic characterisation of cohorts of monogenic PD patients with overt mitochondrial dysfunction will be used as an anchor for the discovery of two extreme cohorts of idiopathic PD patients: with and without detectable mitochondrial dysfunction. A suite of personalised in vitro, in vivo, and in silico models will be generated using induced pluripotent stem cells (iPSCs) from selected subjects and controls SysMedPD unites a highly experienced multidisciplinary consortium in an ambitious project to develop and apply a systems biomedicine approach to preclinically identify candidate neuroprotectants, for the estimated 1-2 million people worldwide who suffer from PD with mitochondrial dysfunction.
Duration

2015 - 2019

Contact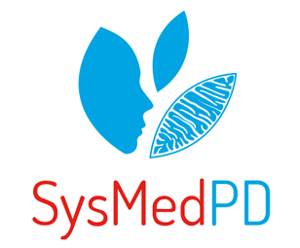 Leiden will provide:
Optimal metabolomic and morphological phenotyping platforms for clinical, in vitro, and in vivo Parkinson's disease with mitochondrial dysfunction.