Research project
UM Cure 2020: New therapies for uveal melanoma
Can we bring novel treatment options to the clinic for UM patients with liver metastases?
Duration

2016 - 2020

Contact

Funding

European Union's Horizon 2020 research & innovation programme

Partners

Cancer Research UK Manchester Institute, United Kingdom
Melanoma Patient Network Europe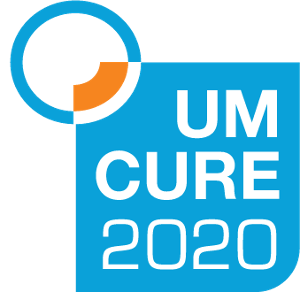 Uveal Melanoma (UM) is a rare intraocular disease and while the primary tumour can often be treated effectively, there is currently no effective treatment for its metastases. Under the coordination of Institute Curie in Paris, the Consortium involving 12 partners has received 6 million euros of funding from the European Union's Horizon 2020 research and innovation programme to identify new therapeutic approaches to treat metastatic uveal melanoma in a 5-year project.
Uveal melanoma (UM) is a primary intraocular tumour with an incidence of 5 cases per million individuals per year. Half UM patients develop metastases, most often in the liver, which are invariably fatal. Despite new discoveries into genetic and molecular background of the primary disease, little insight into metastatic disease is available and there is no efficient therapy to either prevent or treat UM metastases. UM is a different disease from skin melanoma with respect to its molecular, immunological and clinical features. Metastatic UM patients therefore require tailored therapies.
In the UM Cure 2020 proposal, we aim to identify and validate at the preclinical level novel therapeutic approaches for UM metastasis treatment. For this purpose, the consortium brings together the major experts of UM in both patient care and basic/translational/clinical research. An ambitious multidisciplinary approach is proposed to move from patient tissue to the preclinical evaluation of single drugs or combinations and the generation of scientific knowledge of UM pathophysiology. This approach includes the detailed characterisation of the genetic landscape of metastatic UM and its microenvironment, biochemical and proteomic studies to address signal pathway deregulation, and establishment of novel relevant in vitro and in vivo UM models. We also aim to validate accurate surrogate endpoint biomarkers to evaluate therapies and detect metastases as early as possible. Underpinning this will be the UM Cure 2020 virtual biobank registry, linking existing biobanks into a network, and actively pursuing and optimising both primary and metastatic UM sample collection. The identification of preclinical validated therapeutic approaches will allow the initiation of UM-dedicated clinical trials sponsored by academia or pharma.
Results dissemination includes the building of a European patient network and a dedicated UM patients and carriers portal associated with the UM Cure 2020 website, in order to increase patient information.
The group of Ewa Snaar-Jagalska from IBL will generate Zebrafish UM models by using patient-derived cells, either from tumour samples or mouse PDXs for preclinical evaluation of anticancer compounds to treat UM.