Research project
The quest for new medicines against tuberculosis
Can drug screening for tuberculosis treatment be made more efficient?
Duration

2011 - 2016

Contact

Funding

Leiden University Fund (LUF)

Partners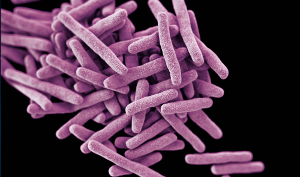 With support from the Leiden University fund, we are optimizing a high-throughput screening platform for anti-tuberculosis drug discovery using the zebrafish as an infection model.
Tuberculosis (TB) is an ancient chronic disease caused by the bacterium Mycobacterium tuberculosis. One-third of the world population is infected with this pathogen. A latent disease, partially controlled by the immune system, is the predominant outcome of Mtb infection, but each year there are 9-10 million new cases of active TB and 1-2 million people die from this disease. The alarming rate at which multi-drug resistant strains are emerging is cause for global concern. In fact, there already exist Mtb strains that are resistant against all known antibiotics. Therefore, there is an urgent need to discover new drugs for TB treatment.
At the Institute of Biology Leiden, have devised a novel robotic screening system that enables high-throughput drug screening using a zebrafish model for TB infection. Infection of zebrafish embryos with Mycobacterium marinum (Mm), a close relative of Mtb, recapitulates hallmarks of TB pathology. Within a few days after infection, embryos show the early stages of the typical TB-granulomas, which are aggregates of inflammatory cells where the pathogen has its niche. For our screening pipeline we have developed a robotic injector that is coupled to a large particle flow cytometer (COPAS) measuring the bacterial burden with a fluorescence readout. In this project the technology is being further optimized and applied to chemical compound screens.
Meijer A.H. (2015) Protection and pathology in TB: learning from the zebrafish model. Seminars in Immunopathology Semin Immunopathol 38:261-73
Ordas A, Raterink RJ, Jansen HJ, Cunningham F, Wiweger MI, Jong-Raadsen S, Bates RH, Barros D, Meijer AH, Vreeken RJ, Ballell-Pages L, Dirks RP, Hankemeier T, Spaink HP. (2014) Testing tuberculosis drug efficacy in a zebrafish high-throughput translational medicine screen. Antimicrob Agents Chemother 59: 753-62
Veneman WJ, Marín-Juez R, de Sonneville J, Ordas A, Jong-Raadsen S, Meijer AH, Spaink HP (2014) Establishment and optimization of a high throughput setup to study Staphylococcus epidermis and Mycobacterium marinum infection as a model for drug discovery. J. Vis Exp 88, e51649
Spaink HP, Cui C, Wiweger WI, Jansen HJ, Veneman WJ, Marín-Juez R, de Sonneville J, Ordas A, Torraca V, van der Ent W, Leenders WP, Meijer AH, Snaar-Jagalska BE, Dirks RP (2013) Robotic injection of zebrafish embryos for high-throughput screening in disease models. Methods 62:246-54
Spaink HP, Ottenhoff THM, Dirks RP, Meijer AH (2013) New high-throughput technologies for drug screening in animal models of tuberculosis. In: The art and science of tuberculosis vaccine development, 2nd edition. N. Mohd Nor, A. Acosta, ME Sarmiento, Eds., CHAPTER 4.2
Carvalho R, de Sonneville J, Stockhammer OW, Savage ND, Veneman W, Dirks RP, Meijer AH, Spaink HP. (2011) A high-throughput screen for tuberculosis progression. PlosONE, 6: e16779