Research project
Ustadh Mau Digital Archive (UMADA)
Hifadhi ya Dijiti ya Ustadh Mau
Contact

Funding

Partners

ASC Library affliates: Ursula Oberst and Jos Damen

Centre for digital scholarship Leiden University Library

Students affiliates: Charlotte Sophie Bruns Knight
External affiliates: Abu Mirah, Karin Voogd, Khadija Issa, Mohamed Mwenje, Syokau Mutonga, Rahima Ngambo, Fresco Sam-Sim, Thomas Gesthuizen

Cooperation: ASCL Library; Lamu Museum, Kenya ; Hekaya Arts Initiative, Mombasa ; Things That Talk; Iwalewa House (Bayreuth University); Zanzibar Institute for Archives and Records (ZIAR).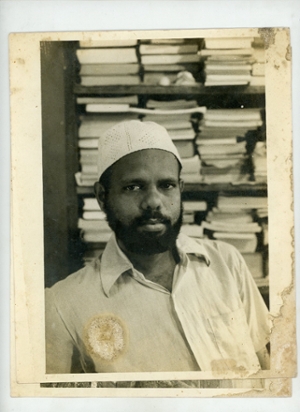 Swahili: see below. Kiswahili: tazama hapa chini.
Mahmoud Ahmed Abdulkadir, locally known with the eptithet Ustadh Mau, is an eminent poet and imam from Lamu island, Kenya. His private library houses Swahili manuscript poetry in ajami, printed booklets sold very often for free and several memoirs from the Middle East and India. Besides manuscripts and print material, his library treasures audio cassettes of his Friday sermons, delivered since 1986 from the oldest surviving mosque on Lamu (Pwani Mosque)[1]. Ustadh Mau's Swahili poetry and sermons reflect on the society, the importance of education, compassion, social roles and responsibility but also his own biography and supplications (prayers). His memoirs - epistles for instance - show his thirst for knowledge and social commitment.
The social and environmental conditions on the island pose a serious risk to Ustadh Mau's library. The island has limited resources for archival preservation. Bookworms (also known as ntwa or in Kiamu nchwa) have already caused damage to his writings. Powder for his books nor curtains to protect the texts from the sun can help any longer. There is therefore an urgent need to digitise and preserve the materials; if the digitisation is not done now, it will be too late. This is what this project aims to do. The digitisation project will enhance the preservation of cultural heritage and open accessibility to an important Islamic hub of Swahili intellectual history and poetic production.
Mau's sermons, works and family networks are listened to and known by only local Muslim publics until now. Within the current debate of decolonising syllabus and archives, the reader's digital access to Ustadh Mau's library will have a transformative impact within the understanding of Islam in the African land mass and its islands.
Objectives:
To raise awareness on manuscripts and material culture heritage

To increase the visibility and accessibility of African-language materials

To enhance new research into Swahili modern intellectual history

To study south-to-south literary connections in the Indian Ocean
Kiswahili
Mahmoud Ahmed Abdulkadir, anayejulikana na jamii kwa jina lake la sifa Ustadh Mau, ni mshairi maarufu na imamu kutoka kisiwa cha Lamu, Kenya. Maktaba yake ya kibinafsi ina mashairi ya Kiswahili kwa khati za kiarabu (ajami), vijitabu vilivyokuwa huchapishwa na kuuzwa kwa bure vikiwemo na kumbukumbu mbalimbali kutoka Uarabuni na Uhindi. Zaidi ya khati na miswada iliyochapishwa, maktaba yake ina kanda (kaseti) za kusajaliwa za hotuba zake za Ijumaa zilizotolewa kuanzia mwaka 1986 kutoka msikiti wa kwanza ambao bado upo Lamu (Pwani Mosque). Mashairi na hotuba za Ustadh Mau zinahusu jamii, umuhimu wa elimu, huruma , wajibu wa kijamii na uwajibikaji lakini vile vile zinazungumzia maisha yake na maombi yake (dua). Kumbukumbu zake , kwa mfano nyaraka – zinaonyesha hamu yake ya ujuzi na bidii yake ya kijamii. Mradi wa kidijitali utazidisha hifadhi ya urithi wa kiutamaduni na ufikiaji wazi kwa kitovu muhimu cha kiislamu cha historia za kitaalamu za Kiswahili na utungaji wa mashairi.
Kiasi kikubwa cha dharura katika mradi huo wa kidijitali na kuhifadhi kinatokana na hali za kijamii na kimazingira ambazo zinatisha maktaba ya Ustadh Mau. Zaidi ya kwamba kisiwa hakina nyenzo za kutosha za kuhifadhi miswada, vijidudu wa vitabu (wanaojulikana pia kwa jina la ntwa au kwa kiamu nchwa) wameshaharibu tungo zake. Ndiyo sababu kwamba dawa kwa vitabu vyake wala pazia zinazokinga matini dhidi ya jua hazifai tena kulinda matini. Ikiwa kazi ya kuweka kidijitali haifanyi sasa, itachelewa mno.
Mpaka sasa hotuba, tungo na mtandao za jamii za Ustadh Mau zinasikilizwa na zinajulikana na umma wa kienyeji na wa kiislamu tu. Katika majadiliano ya kisasa ya kuondoa ukoloni kutoka mfumo wa elimu na kumbukumbu za kale, ufikiaji wa kidijitali wa msomaji wa maktaba ya Ustadh Mau utakuwa namatokeo yatakayobadilisha ufahamu wa elimu na utamaduni wa Uislamu barani na visiwani Afrika.
Lengo:
Kukuza kutambua kwa watu juu ya nyaraka na urithi wa malighafi za utamaduni

Kuongeza kuonekana na upatikanaji wa tungo kwa lugha za kiafrika

Kukuza tafiti mpya ya fani ya historia ya Kiswahili ya kisasa ya kitaalamu

Kusoma mawasiliano ya kifasihi katika Bahari ya Hindi (Bahari Kuu) kusini kwa kusini