Research project
Dutch Coastal Plains
The physical landscape is the setting in which human activities take place. Landscape and site context during human occupation is one of the areas of concern for the geoarchaeologist. A detailed stratigraphical study -both on- and off-site- clearly enhances the interpretation of the archaeologists, since the structure of the landscape affects the types of activities which human groups can carry out with a reasonable expectation of success.
Contact
Geoarchaeology
In aggrading sequences, landscape development is the key to understanding the (prehistoric) settlement history, since the location choice was largely dictated by the changes in the natural environment.
The area of research is predominantly Western Europe, with a strong focus on the Netherlands. The time range varies from Upper Palaeolithic to Roman Age.
Landscape archaeology in the Dutch coastal plain (Schipluiden, Katwijk)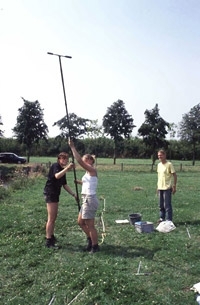 Coastal development is the key to understanding the prehistoric and Roman settlement history in this part of the Netherlands. Detailed landscape studies in the western Netherlands enable a better understanding of the location choice and results in more successes during the prospection phase. Vice versa, the study of the natural site formation processes at an excavation provides very detailed stratigraphical sequences, which can serve as an independent control for a more detailed picture of the coastal dynamics. It leads to well-dated sedimentary and archaeological sequences, since they are based on stratigraphical constraints.
In 2008-2010 a large prospection campaign is planned on the former military airport Valkenburg (ca. 800 ha). The region is well-known for its Roman castellum and Bronze-age burials, but so far the presence of the airport hampered a regional overview. The research is focused on the increase in knowledge of the spatial characteristics of the settlements in the western Netherlands and aims to fit these local details into the regional Dutch stratigraphical sequence.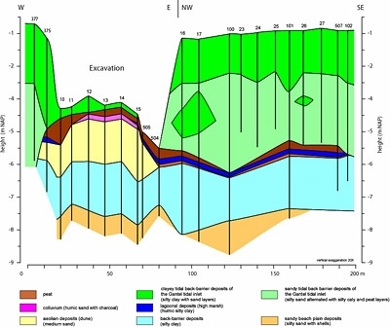 Site formation and prehistoric settlement history of the Meuse river area near Oss
Near Oss a large number of Bronze Age and Roman households have been excavated. Nevertheless, all settlements appear to occur on the Pleistocene surface that was located well above the alluvial plain of the river Meuse. The aim of the study is to gain more insight into the use of the alluvial plain during the same period.
Former research
Landscape development in the Niederlausitz and Halle-Leipziger Tieflandsbucht ( Germany)
Terrace stratigraphy in the Vézère river valley (France)
Landscape reconstruction and natural site formation of two Mesolithic sites in the lower Rhine-Meuse delta (Hardinxveld, The Netherlands)
Natural site formation of a beach plain settlement in Guadeloupe (Caribbean)
Overview of climate change and chronostratigraphy during the last Glaciation in northern Europe and the Russian plain.