Fieldwork campaign
Aesernia Colonial Landscape Project (Molise)
The Aesernia Colonial Landscape project investigates ancient settlement patterns and dynamics around modern Isernia in Molise (Italy), the Latin colony of Aesernia (founded 263 BC). It consists of intensive systematic field survey in the territory of the colony, combined with remote sensing and geoprospection analyses, as well as detailed study of the finds, including large datasets of ceramics.
Duration

2011 - 2017

Funding

NWO Free Competion Grant

Partners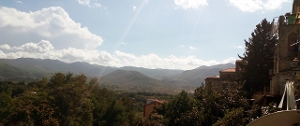 Research question
How did the Romans win and keep their empire? In attempts to answer this crucial historical question, Roman colonization has been central. Our understanding of the actual character of the early Roman colonies and their impact on the conquered territories is, however, very fragmentary and often pieced together from disparate types of information. As one of the subprojects of the umbrella project Landscapes of Early Roman Colonization, the Isernia project systematically investigates the territory of Aesernia with landscape archaeological methods.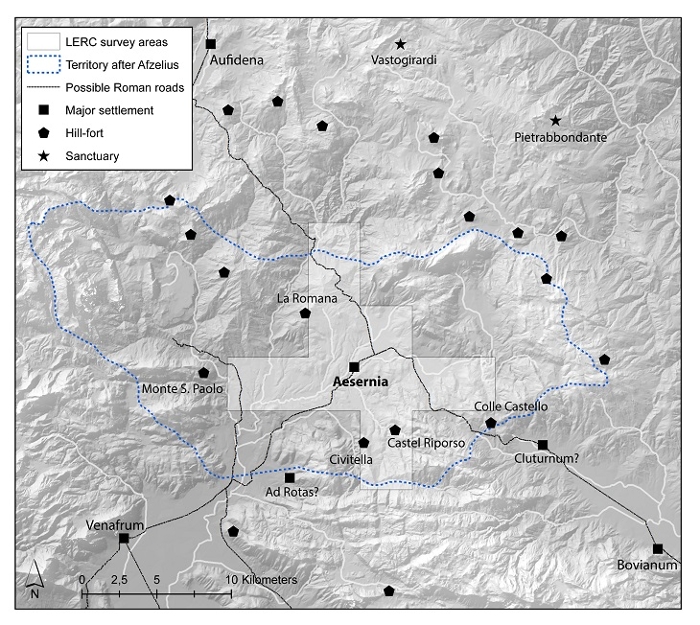 Introduction
As part of the Landscapes of Early Roman Colonization project, our fieldwork around Isernia (the ancient Latin colony of Aesernia, founded 263 BC) aims to provide new data to test hypotheses about settlement organization associated to Roman colonization. Traditionally, Roman colonies have been portrayed as key factors in the spread of the urban model and, typically, these new foundations are sharply contrasted with the non-urban settlement organization of pre-colonial times. In the Aesernia Colonial Landscape Project, we perform intensive systematic field survey and various remote sensing techniques including geophysical research and aerial archaeology using drones to shed more light on settlement systems around Isernia before and after Roman colonization.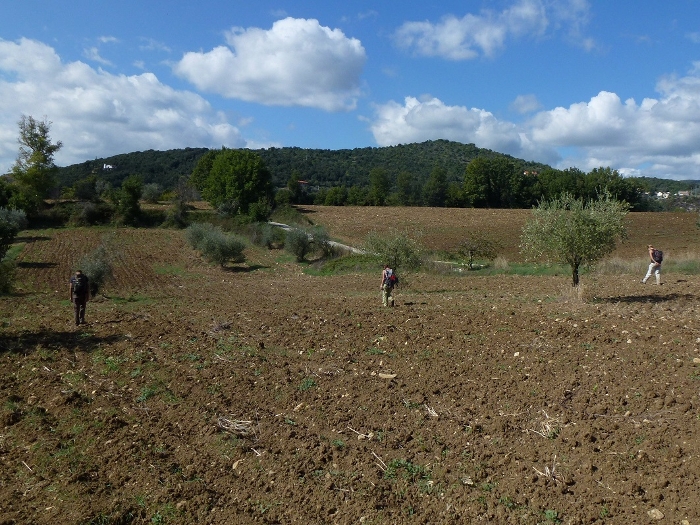 Research area
The project takes place in a beautiful and diverse landscape around modern-day Isernia. The sample area (fig. 2) covers an area of over 120 sq. km. It is centered on the settlement of Aesernia, and cuts through different geomorphological and land use zones, including the more fertile valley floors and the more mountainous portions of the landscape. This represents at least a 20% sample of the ancient colonial territory, depending on the different reconstructions of that territory (for the reconstruction of Aesernia's territory by Adam Afzelius, see fig. 2). This sample area allows us to investigate both the areas around Isernia where the colonists are traditionally thought to have settled (centuriation grids have been recognized around the modern town) and some known pre-Roman Samnite hill forts (see fig. 4).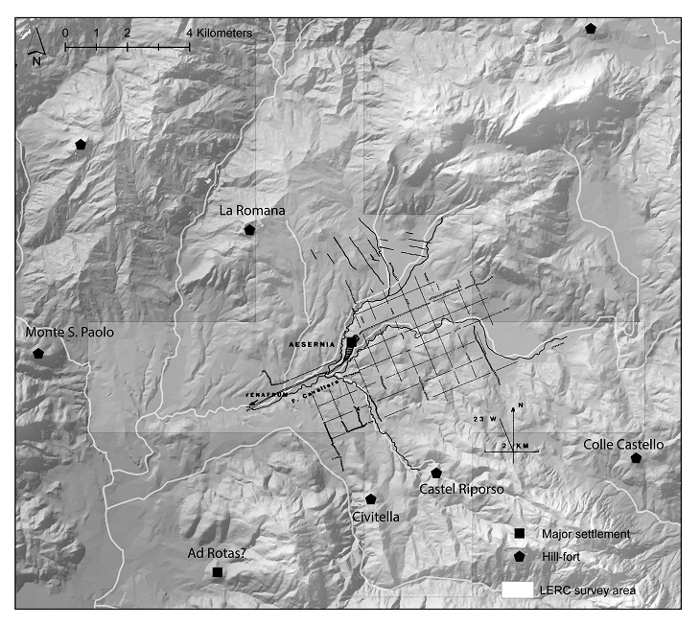 Methods
In order to facilitate comparison with other field survey projects in colonial territories in Italy, we have adopted a site-oriented field survey method. The method basically consists of mapping sites without collecting off-site finds, but maintaining a systematic and high-resolution coverage of the research area (see the section survey method below for details). The results of this method are tested by more intensive revisits of parts of the research area, where off-site material is also collected. Moreover, a selection of sites is further investigated through detailed intra-site study, using a high-resolution, gridded point sampling technique (combined with superficial topsoil cleaning where necessary) and various remote sensing techniques, in order to get a better understanding of the spatial layout and internal structuring of our survey sites. The same point sampling technique is used to sample some hard to access parts of the research area, including known Samnite hill forts. Finally, analysis of historical aerial photography, drone photos and Lidar data adds significantly to our understanding of the landscape and individual sites.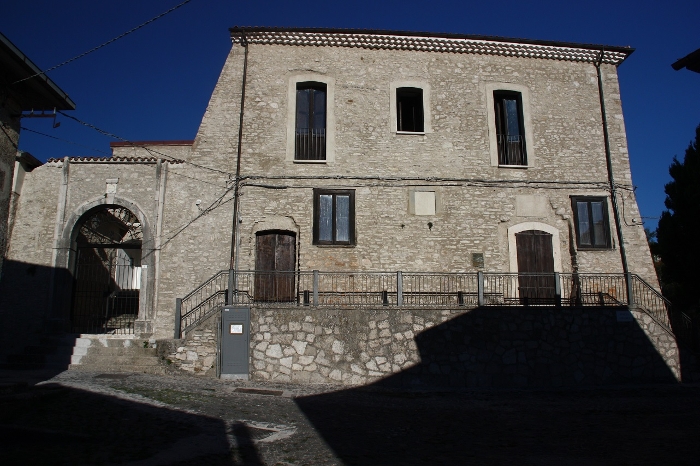 Preliminary results
We have so far been able to detect 99 previously undocumented sites, which by themselves add significantly to our understanding of the landscape around Aesernia. The Hellenistic or Republican period seems to be the main period of clear infill of the rural landscape, especially if compared to the scanty archaeological record for the preceding periods.
The first preliminary results have been published in Stek T.D., E.B. Modrall, R.A.A. Kalkers, R.H. van Otterloo & J. Sevink (2015), 'An early Roman colonial landscape in the Apennine mountains: landscape archaeological research in the territory of Aesernia (Central-Southern Italy).' In: Analysis Archaeologica 1, pp. 229-291.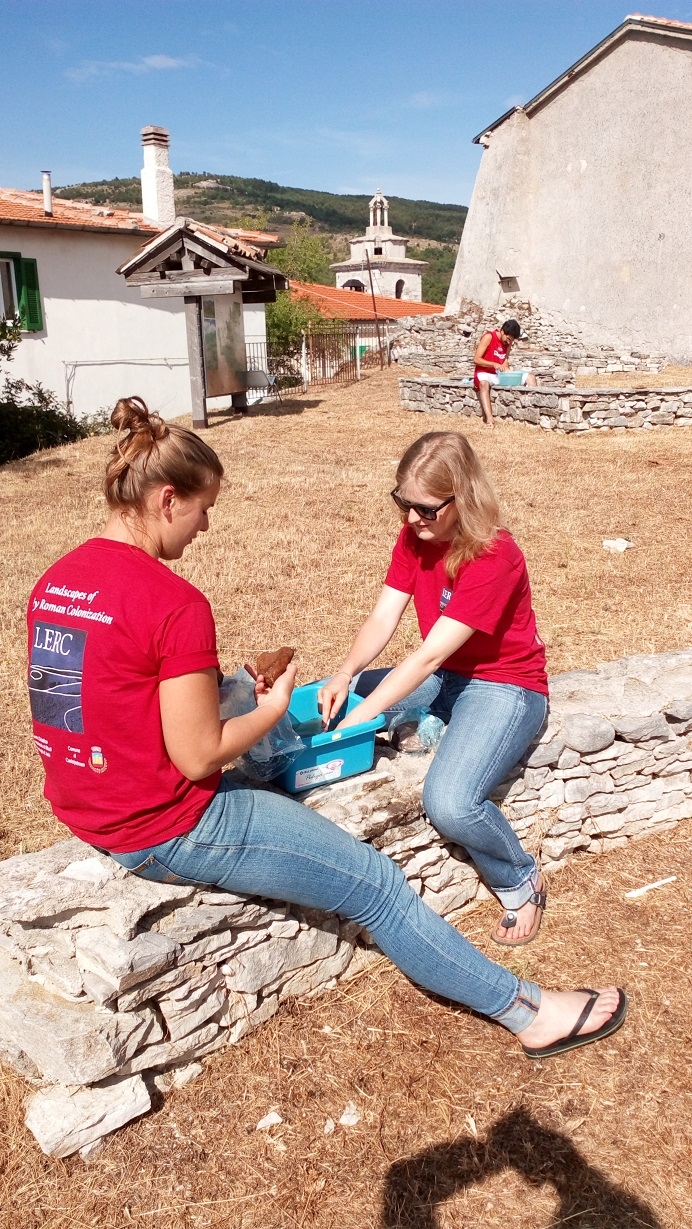 The fieldwork experience
Research is carried out each year in one or more field campaigns by an enthusiastic international team of scholars and students. In addition to an intimate knowledge of the landscape and its archaeology, they also get to know our friends in the local community of Castelpetroso, and the amazing food and wines of Molise and Italy.