Dissertation
The Anthropomorphic Hegemony of Subjectivity: Critical Reflections on Law and the Question of the Animal
On 16 December 2019, Jan-Harm de Villiers defended his thesis 'The Anthropomorphic Hegemony of Subjectivity: Critical Reflections on Law and the Question of the Animal'. The doctoral research was supervised by Prof. P. Cliteur.
Author

Jan-Harm de Villiers

Date

16 December 2019

Links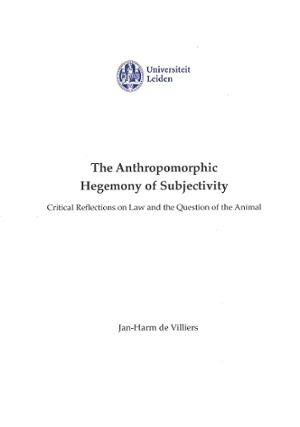 This project contemplates an ethics of difference and singularity that can effectuate a displacement of anthropocentrism and radical transformation in the way we understand and approach relationality across species borders. The reflections take place against the background of the problematic accompanying the (re)presentation of animals in the subject-centered models of moral philosophy and law, and the salient ways in which theorists have engaged these avenues in order to effect change in our treatment of animals are being questioned.
Animal liberation scholars have mainly sought to address the plight of animals from the theoretical frameworks of legal rights, interest-based equality, and identity discourse that foreground the ways in which animals are essentially similar to human beings in terms of ethically relevant qualities or characteristics. This project critically reflects on Emmanuel Levinas's formulation of the ethical in order to advance an alternative understanding of human-animal relations as grounded in the radical singularity or difference of individual beings. The functioning of the human/animal oppositional limit is situated in relation to man's becoming-subject and argue that attempts at assimilating animals to the model of (legal) subjectivity paradoxically solidify precisely the interpretation of man that is being called in question.
The research is aimed to illustrate specifically the anthropomorphic hegemony of subjectivity - by which term the researcher wishes to designate the tacit anthropocentric contours of the construct of subjectivity that guide a determination of animal Being and ethical worth against a standard of humanness - and its implications for discourses and institutions that evoke this construct.