Dissertation
Performance Requirement Prohibitions in International Investment Law
On Tuesday 17 October 2017 Alexandre Genest defended his PhD dissertation 'Performance Requirement Prohibitions in International Investment Law' as part of a double PhD programme at the Universities of Leiden and Ottawa. The Supervisors are Professors M.E. Koppenol-Laforce. F. Baetens (Universities of Leiden and Oslo) and P. Dumberry (University of Ottawa).
Author

Alexandre Genest

Date

17 October 2017

Links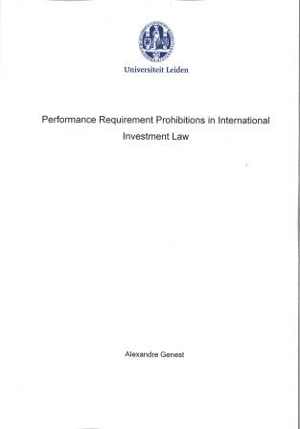 This thesis focuses on providing answers to two research questions: first, how do States prohibit performance requirements in IIAs? And second, how should PRPs in IIAs be interpreted and applied?
For the first time, this thesis: proposes a unitary understanding of PRPs in IIAs by drawing notably on the General Agreement on Tariffs and Trade ("GATT") Uruguay Round of negotiations and on the United States Bilateral Investment Treaty ("BIT") Programme; develops a detailed typology and analysis of PRPs in IIAs through the identification of systematically reproduced drafting patterns; conducts the first critical and in-depth analysis of all publicly available arbitral awards which have decided claims based on PRPs in IIAs; analyses interpretation and application issues related to provisions that exempt government procurement from PRPs and to reservations that shield sensitive non-conforming measures or strategically important sectors from PRPs; and anticipates the application of most-favoured nation ("MFN") treatment clauses to PRPs in the future.
Finally, this thesis formulates proposals that can help interpret and apply existing PRPs and draft future PRPs in a more deliberate and informed way.