Dissertation
Legitimiteit en rechtswaarborgen bij gesloten plaatsing van kinderen
On 7 March 2019, Maria de Jong-de Kruijf defended her thesis 'Legitimiteit en rechtswaarborgen bij gesloten plaatsing van kinderen'. The doctoral research was supervised by Prof. mr. M.R. Bruning en Prof. mr. T. Liefaard.
Author

Maria de Jong-de Kruijf

Date

07 March 2019

Links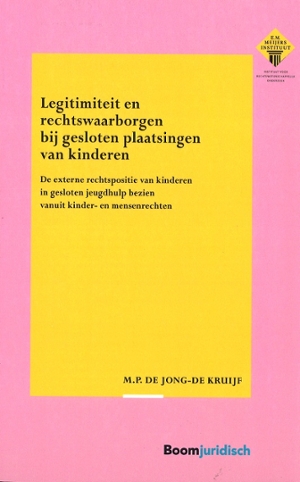 The government may deprive children of their freedom under conditions to raise and protect them. In the Dutch context, this form of deprivation of liberty is called "closed youth aid", regulated in the Youth Act. The aim of this research is to establish a child and human rights assessment framework against which Dutch law and its application are tested. The study also provides insight into 200 years of history. Furthermore, 586 court rulings over a period of 10 years (2008-2017) have been analyzed. This shows that a placement is often based on the use of acute help in a situation where nothing else seems to be possible. In general, insufficient attention is paid to the purpose of this placement and the restrictions on freedom that this entails. Finally, in this study, 23 children are interviewed who were confronted with closed custodial placement.
The research shows that the legitimacy of applying this measure on a large scale is under pressure, in particular because adequate care is often lacking. Various recommendations are made to improve legitimacy, among other things by deepening the legal assessment framework, shortening the maximum duration of a placement.