Book
European Banking and Financial Law Statutes
Just published: European Banking and Financial Law Statutes Published by Routledge
Author

Matthias Haentjens and Pierre de Gioia-Carabellese

Date

03 November 2017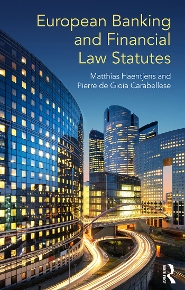 European Banking and Financial Law Statutes presents a selection of the key legislation for European banking and financial law in one student-friendly volume. This book is intended to be:
up-to-date with the law: based on the official consolidated texts of relevant European instruments, this book provides a current collection of legislation;
tailored to course outlines: content has been curated to align with European banking and financial law courses;
exam-friendly: conforming to regulations, this an un-annotated text that is suitable for exam use; and
easy to use: a clear and attractive text design, detailed table of contents and multiple indices provide ease of reference and navigation.
This book has especially been tailored for use in combination with the European Banking and Financial Law textbook of the same authors that is currently under revision and will be published soon. For a detailed table of contents, as well as author information and purchase options: click here.