Dissertation
An Institutional Perspective on the United Nations Criminal Tribunals: Governance, Independence and Impartiality
On 18 September 2019, Huw Llewellyn defended his thesis 'An Institutional Perspective on the United Nations Criminal Tribunals: Governance, Independence and Impartiality'. The doctoral research was supervised by Prof. N.M. Blokker and Prof. L.J. van den Herik.
Author

Huw Llewellyn

Date

18 September 2019

Links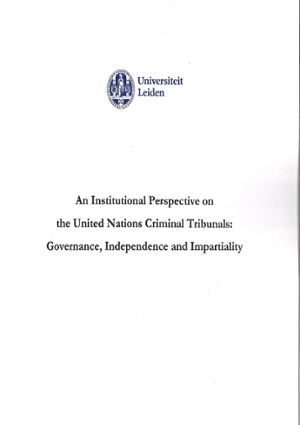 The dissertation compares the UN criminal tribunals (for the former Yugoslavia, Rwanda, Sierra Leone, Cambodia and Lebanon) from an institutional perspective, looking in particular at the differing institutional forms in which they were established, and at the tribunals' political "oversight" bodies, comprising States. The UN Security Council established and oversaw the functioning of the tribunals for the former Yugoslavia and Rwanda. The other tribunals are overseen by "management committees", each comprising a handful of the major donor States.

It assesses these varying forms and oversight arrangements in terms of their strengths and weaknesses in supporting the tribunals' independent and impartial functioning, which is a requirement under international law. It also assesses their strengths and weaknesses in enabling the tribunals to be well-run institutions, which is not a legal requirement, but is nevertheless an important "governance" consideration. Both of these considerations are important to promote respect for the tribunals' authority among the international community, including in the State where the atrocities in question took place.

Both types of oversight body have exceeded the budgetary and administrative authority that they might be expected to have over the tribunals, engaging in matters of judicial management and efficiency, in particular adopting "completion strategies" – timelines for the completion of all cases by the tribunals. It is unlikely that such measures by government authorities in relation to national courts would be considered compatible with the international legal requirement of independence. This raises the question whether the legal requirement of independence and impartiality applies differently in relation to international tribunals. The dissertation recommends that new international guidelines be considered to address such questions.

The institutional form and oversight arrangements of the International Criminal Court ("ICC") draw on some of the strengths of those of the UN criminal tribunals, which means that it is well-placed to weather the current storm regarding allegations of an over concentration on situations in Africa.