Book
Vox Populi, Populism as a Rhetorical and Democratic Challenge
This timely and engaging book examines the rise of populism across the globe. Combining insights from linguistics, argumentation theory, rhetoric, legal theory and political theory it offers a fully integrated characterization of the form and content of populist discourse.
Author

Edited by Ingeborg van der Geest, Henrike Jansen and Bart van Klink

Date

31 August 2020

Links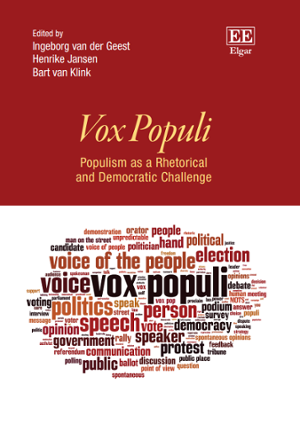 Throughout the book, eminent scholars address questions central to the topic, such as: how does populism manifest itself rhetorically; how does it relate to liberal democracy; and how can the populist challenge be confronted? Carefully selected case studies are used to examine how populist behaviour deviates from that which we would expect to be the norm in a liberal democracy, for example through the use of obnoxious language and refusal to substantiate vulgar claims. The book also provides key insights into more fundamental issues, such as the opposition between the 'real' people versus the elite and the longing for a 'Heimat'.
Offering an in-depth analysis and evaluation at the intersection of language, law and politics, Vox Populi will be of great benefit to students and scholars from a range of disciplines.